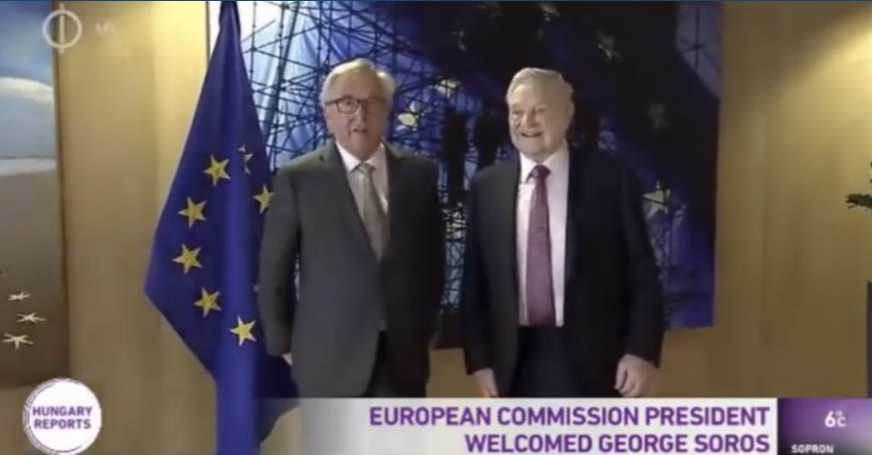 The globalist and billionaire George Soros had clandestine meetings with top European Union officials in 2017.
After those meetings, it has now been revealed that Soros has donated more than £700,000 to groups actively trying to sabotage Brexit.
Frans Timmermans, Vice-President of the European Commission, admitted that Soros demanded a series of meetings between April and June in 2017.
The request by George Soros was granted.
EU President Jean-Claude Juncker, First Vice-President Timmermans and Commissioners Moscovici, Stylianides, and Moedas met Soros on 27 April, 31 May and 1 June 2017.
'Borders are the worst invention ever made by politicians,' said Jean-Claude Juncker.
Soros is a fanatical supporter of open borders.
Therefore, it's no surprise to see that Juncker and Soros were smiling when there were pictured together.
George Soros made £1billion and the nickname 'The man who broke the Bank of England' after he bet against sterling on 'Black Wednesday' in 1992.
His meddling in Brexit has caused a furious backlash in Britain.
However, Soros was said to be so incensed at the criticism that he is considering an even more substantial donation!
It's wrong for foreign fat cats to undermine the democratic will of the British people.
No-deal Brexit
It's time for the British government to be strict and uncompromising in our negotiations with the EU.
If we can't do a deal with the European Union which is to our satisfaction, then it's better to walk away with no deal.
Those who want a 'soft Brexit' are obstructing the will of the people, and there's nothing to fear from a no-deal Brexit.
BNP – the original Brexiteers
The British people deserve a political party that is thoroughly committed to Brexit.
The British National Party is 100% committed to Brexit – no ifs, ands, buts, or maybes!


Comments
comments