Donald Trump has slammed German Chancellor Angela Merkel for her mass immigration policy which has brought with a unprecedented surge in sex crimes against European women and children and series of horrific terror attacks by Islamists.
Mr Trump, who is scheduled to be inaugurated as US President on the 20th January, has voiced his support of Brexit stating that it will "end up being a great thing."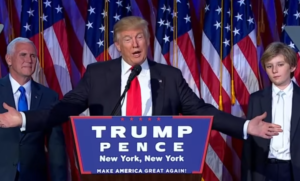 "I sort of, as you know, predicted it," he told Michael Gove in his first British press interview.
Repeating his pledge to tighten the US borders he said:
"We don't want people coming in from Syria who we don't know who they are.
"You know there's no way of vetting these people.
"I don't want to do what Germany did."
Merkel's disastrous mass migration was the "straw that broke the camel's back" he stated.
Mr Trump has made it no secret that he has great affection for Britain.
Praising the fortitude of the British economy, he also delivered a blow to the Bank of England, the International Monetary Fund (IMF) and other international financial conglomerates for their scaremongering doom and gloom forecasts.
In an interview earlier this week, US editor-at-large for Mail Online, Piers Morgan, recalled how the President-elect had told him that his Scottish-born mother was an admirer of the Queen and that he himself felt a strong affinity with his British roots.
Mr Trump's election exponentially added to the woes of the crumbling European Union following the seismic Brexit result.
The EU is being uncovered as an exclusively German project with Angela Merkel becoming increasingly isolated as a result of her role in subjecting the European people to the nefarious project.
Britain is set to have a very powerful ally in the White House in a week's time – and it's not looking good for the EU.
The BNP started the anti-EU campaign with its formation in 1982.
It was the BNP that the kick-started the concerted campaign to get Britain out of the EU.
The BNP has always led the way in British politics, being vilified for leading the way in opposing the politicians' destructive policies before being proved right every time.
Isn't it time you join the winning team. Join the BNP online here or call the membership hotline on 0844 809 4581 and join the BNP today.
Comments
comments