The Christmas sales figures, published today, have yet again proved the doom-and-gloom mongers wrong as the post-Brexit vote continues to be great news all round.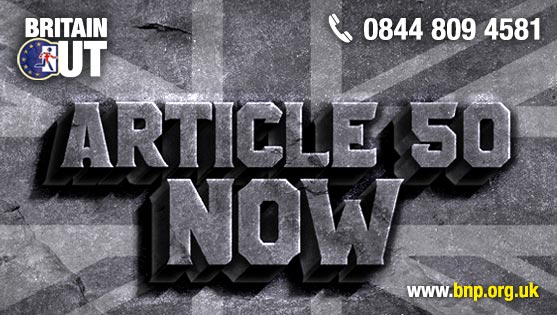 Especially for the economy, the main area of dread in the frantic scare tactics of the Remain camp.
The BNP were one of the few stabilising voices in the run up to last year's historic vote for Britain to finally leave the despised, corrupt and hugely expensive European Union (EU).
We predicted that Britain would experience initial fluctuations but that the economy would soon begin to settle – and we were correct.
M&S are reporting the best Christmas sales for years.
Other top retailers including Tesco and Debenhams are also reporting sales increases, with sports retailer JD outperforming most.
The stock market is still solid even after the usual suspects try to cry wolf again.
Following Donald Trump's press conference, the Dow Jones ended up 98 points for the day finishing at 19,954, almost reaching the elusive 20,000 benchmark.
Still with the economy, and industrial production in the Eurozone rose more sharply than expected with output up 1.5% month on month compared to forecasts of a 0.5% increase.
Year on year it rose 3.2%, much better than the 1.6% expected.
So, as we move further from the Leave vote we must now double and triple our efforts to push for the immediate implementation of Article 50, the mechanism that will trigger the two year separation process from the tentacles of the EU.
Join the British National Party today and demand ARTICLE 50 NOW!
Join us also in pushing for the 'hard Brexit', the full separation, as opposed to the 'soft Brexit', or the nothing-changes model now being championed by the forlorn Remain camp as their utter defeat starts to sink in.
Comments
comments