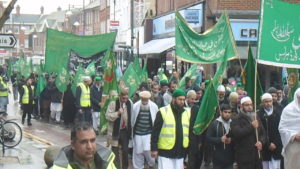 As predicted by the BNP, approximately 1,500 immigrants are back in Calais, and they are heading your way. Police are warning of a new "summer of hell" at the border.
This latest movement of mostly fighting aged men into northern France has raised the prospect of new "Jungle" style camps with more chaos and misery for British tourists and truckers expected.
A senior border police commander told the Daily Express: "It's been a tough winter, but when the sun is shining again it will be much easier for them to sleep rough. That's when we expect to see many more coming here trying to set up illegal camps again."
French authorities are allegedly officially enforcing a "zero tolerance" policy to asylum seekers, yet police say 1,500 migrants are still found every month.
Five months ago the sprawling "Jungle" shanty town was flattened, and 10,000 mainly male migrants were evicted under the watch of armed police.
Rather than being sent back to their countries of origin, they were foolishly sent to reception centres across France and told, in true liberal fashion, that they would not be allowed to return to Calais.
However, a senior police source has said: "Up to 50 migrants are arriving every day in Calais. We're overworked as it is. Locating and arresting the new arrivals is a full-time job. Once they've been processed and released, many simply come back again.
"If politicians want zero tolerance then they need to send a lot more police officers here."
Speaking from behind his blindfold, Vincent Berton, sub-prefect of Calais, has claimed: "there are no encampments or squats in Calais".
However, as is the norm when large numbers of immigrants gather, violent gangs continue to operate and wreak havoc unchallenged throughout the area.
In March reporters in Steenvoorde, 40 miles east of Calais, were attacked at motorway services after witnessing traffickers load illegal immigrants into lorries in broad daylight.
The Home Office said: "The French are alive to the threat of new camps.
"We will continue to fight criminals that co-ordinate people smuggling."
BNP Chairman, Adam Walker commented: "What the Home Office should have said was that they are going to use part of the £13 BILLION wasted yearly on foreign aid to help secure our borders and to protect us from Islamists who are hiding amongst the 'migrant' hordes and are hell bent on bringing their hatred and misery to Britain. Other countries manage quite easily to keep out immigrants who are not wanted or needed. It's about time the pathetic UK government took a leaf out of their books".
Comments
comments