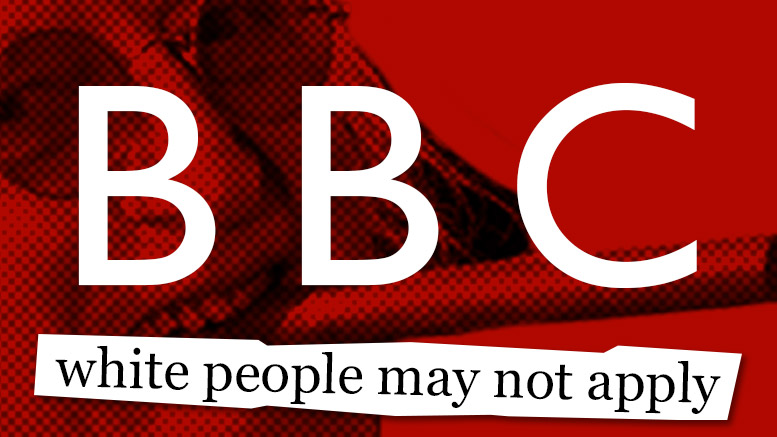 The BBC has declared racial discrimination acceptable after it placed an ad for an internship open only to non-white applicants.
It is "an exceptional and unique opportunity to train as a broadcast journalist" but one "only open to candidates from a black, Asian or non-white ethnic minority background".
It was posted on the jobs section of Westminster political, media and lobbying jobs portal, w4mp, by Creative Access which has a history of offering "highly desirable, paid internships at top media companies from which white people are excluded from applying."
On its website, Creative Access states that its mission is to "help young people, from under-represented communities throughout the UK, to access creative careers."
"Our vision is that in the longer term, our interns will progress to management positions, and in turn bring in others from under-represented communities in alongside them."
Under represented… really?
According to the BBC's Equality and Information Report for 2017, blacks and minority ethnic (BAME) comprise 14.5% of the corporation's workforce, while making less than 13% of Britain's population as of the 2011 census.
The BBC, notorious for its institutional Leftist bias, has committed to ensuring the diversity of their staffing "reflects the UK" and declaring that it intends to engineer "a workforce at least as diverse, if not more so, than any other in the industry."
According to the BBC, by 2020 it will ensure its workforce is comprised of 15% non-whites.
How is the BBC getting away with such flagrant racism?
The Equality Act 2020, states that racism – the double-speak term for which is "positive action" – is permitted as long as it is only against white people.
Citizens Advice describes 'positive action' as "steps to help certain disadvantaged groups access employment or training."
In order to give these so-called 'disadvantaged' groups an advantage, it means forcibly holding young white people back.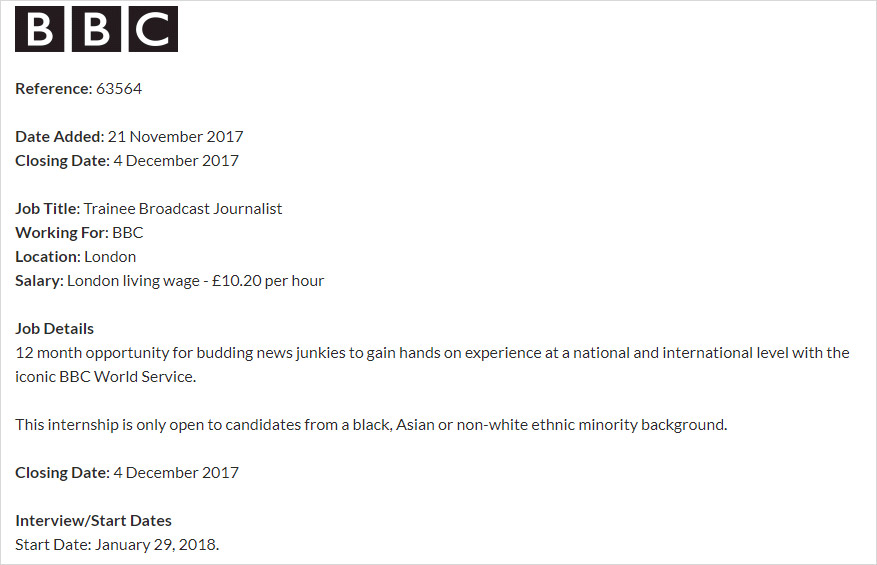 For decades the BBC has been spearheading a witch-hunt for anyone and every one it can accuse of  'racism'.
But hypocrisy is a central tenet of Leftist ideology.
"The level of  interesting advert because it doesn't merely place one group above the rest, it places ALL the rest above ONE!" said BNP Chairman Adam Walker.
"There's a further irony too; by declaring that non-whites are incapable of competing in the jobs market is surely an idea which flouts their own conditions of 'racism'.
"But their is again is where the insidious Leftist ideology comes into play – if others are failing, someone else MUST be to blame."


Comments
comments