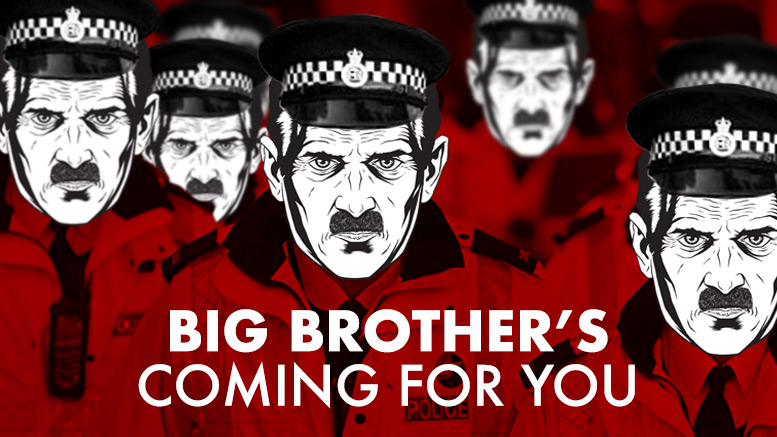 Police have arrested more than 3,400 people for 'offensive' online comments in one year an investigation by The Times has revealed.
Figures obtained through the Freedom of Information Act has revealed that political police chiefs have been spending taxpayers' money on arresting internet trolls under section 127 of the Communications Act 2003, which makes it illegal to intentionally "cause annoyance, inconvenience or needless anxiety to another" introduced in 2016.
Given that thirteen police forces have refused to submit the figures of their arrests of internet commentators, the total number of politically motivated harassment and arrests by the political police is certain to be far higher.
Following the Manchester suicide bombing by an Islamist terrorist the BNP predicted that Theresa May's government would step up it's Chinese-style censorship of the internet.
Earlier this week Home Secretary Amber Rudd announced the launching of a new police hub with the responsibility to search out and arrest those guilty of 'wrong-speak'.
The Conservatives politicised Britain's police back in 2012 when they introduced elections for police chiefs with political membership.
Concerns have been raised that the political police are arresting internet trolls who express their opinions on their social network profiles while mainstream media (MSM) broadcasters are providing platforms for the most egregious anti-white racists spouting genuinely offensive hate-filled bile.
Jim Killock, executive director of the Open Rights Group, said:

"The problem is 'grossly offensive' is not something you should normally be prosecuted for.

"It's not showing harm to other people. It's not showing that somebody is being … attacked or threatened."

Police ignore Channel 4 broadcast of white-hating foul-mouthed racist Nadia Chan

The seeming inconsistency in the enforcement of free speech restrictions has also been a source of contention, with the Metropolitan Police — who detained 867 people in 2016, according to The Times figures — appearing reluctant to investigate people such as Nadia Chan, the self-described Islamist who was revealed as having made a number of deeply racist remarks about white people on social media after an appearance on public broadcaster Channel 4.

Chan branded Israeli Jews "parasites" and ranted that white people were "swine" and "pasty bland b**ches [who] have NO culture, no rich history, you ain't s**t, ur ancestors were cave ppl".

She also openly endorsed terror attacks on Iranian state network Press TV —  but the Met refused to say whether they would bring charges against her.

Literally thousands of people urged the Met Contact Centre on Twitter to investigate Chan, but the force did not appear to offer any public response, and individuals who contacted the account privately claim they were told the force would not accept any reports unless the complainants came to a police station in person.

Racist bloke in a dress: The BBC's latest pin-up, Munroe Bergdorf, is given a platform to spout anti-white hatred

Similarly, people who reported mixed race transgender model Munroe Bergdorf for saying "the white race is the most violent and oppressive force of nature on earth" in a segment produced and aired by the publicly-funded BBC — an apparent violation of the laws against 'inciting racial hatred' — were met with official indifference.

The Met seemed to indicate that it was not interested in investigating Bergdorf in online responses to members of the public, referring them to the complaints form for broadcast regulator Ofcom instead.
The results of the investigation confirm that the British authorities have put into place a policy of 'one rule for them, another one for us'; a policy aimed primarily at silencing British people that speak out against the ongoing terrorism by Islamists and the rabid anti-white racism that the MSM is providing a platform for and encouraging.
The politicians' multicultural agenda has failed so catastrophically that the British government is now rounding up and persecuting anyone with the temerity to point out its flaws in its desperate attempt to contain the growing public backlash.


Comments
comments