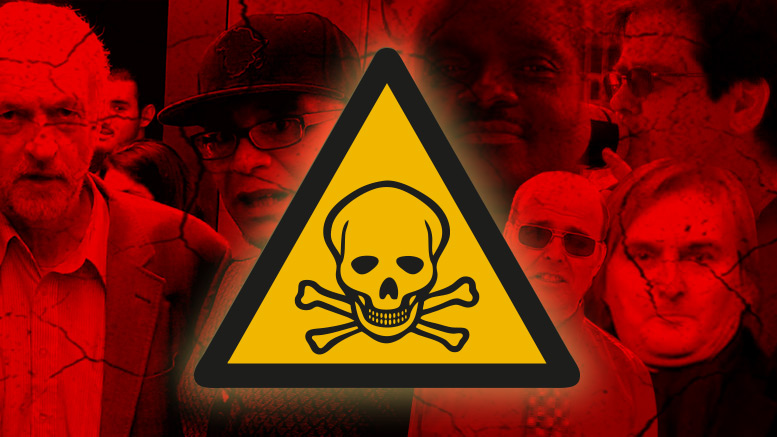 The Labour Party has re-admitted a raft of Leftwing extremists – including members of 'proscribed' radical groups –  into its ranks according to a leaked memo direct from Labour HQ.
The move comes after candidates from the party's militant wing, Momentum, secured a  "clean sweep" of positions in a recent election.
Among the re-admissions is an alleged associate of convicted paedophiles, Terence Ewing, who was convicted in the early 1980s of 21 counts of theft and forgery and jailed for seven years.
Kingsley Abrams, who stood for rival TUSC in the 2015 elections also rejoins the toxic fold.
Next up is Lee Jasper.
'Race czar' for Ken Livingstone during his tenure as London Mayor, he was accused by the London Evening Standard in 2007 of cronyism and corruption and suspended by Livingstone.
In emails to a woman he was having an affair with and whose organisation received money from London City Hall, Jasper's sleazy statement, "I want to… honey glaze you," was taken to mean he would lavish her with public money for indecent favours.
When under official investigation, Jasper invoked his black privilege and pulled his race card blaming "racists" for the inquiry into corruption.
Self-confessed "Marxist socialist-feminist", Janine Booth, who remains a member of the rival and 'proscribed' Alliance for Worker's Liberty has also been readmitted.
According to Booth, she reinstated her Labour Party membership after being told that, "if it is OK for members of Progress [the moderate pressure group], to be part of it, so too can members of Workers' Liberty," and that Corbyn's Labour Party was now a "broad church."
Leftist extremist, Alan Fogg, a Trotskyite militant who played a role in the seizure of Liverpool Council in the 1980s and who was subsequently banned from public office for five years after attempting to set up an illegal deficit budget in 1985, was also readmitted.
"I had expected them to give me trouble, but I went for an interview and it all went fine," Fogg grinned.
"It's about time people like us got back into the party."
However, the MSM (mainstream media) have focused on Labour's proposed new addition to its 'anti-semitic' ranks, Mike Sivier, who has reportedly responded saying:
"I'm not accepting my readmission under the terms offered to me."  
Sivier, who caused outrage when he confessed that he "didn't know" whether thousands or millions of Jews died in the WW2 and also went on record stating that it might be justified to say that Tony Blair was "unduly influenced by a cabal of Jewish advisors."
Anti-Semitism has surged in Labour ranks since Jeremy Corbyn's take over, not least fuelled by the swelling numbers of Muslim members, campaigners, and candidates.
According to Islamic apologist and New Statesman contributor, Mehdi Hasan, anti-Semitism was the Muslim community's "dirty little secret."
Presumably, Muslims are also trying to avoid hell-fire by supporting the Labour Party after activist, Navid Hussain, announced that Muslims who voted for anyone but Labour would go to hell – that's extremism for you!
The re-admission of Leftist extremists and criminals has further alienated the centre-Left Labour support.
Luke Akehurst, Secretary of Labour First, an anti-Momentum pressure group, told the Sunday Times:
"It is simply absurd that these people should be considered eligible to join for Labour.
"Some of [them] are high-profile, public opponents of the Labour Party or leading members of far-Left rival parties."
Labour Party HQ refused to comment on the allegations, responding instead by stating that:
"We do not comment on leaked documents.
"The NEC's disputes panel operates in line with our party's procedures."
One thing appears certain, Labour is toxic!
Not only does it attract the most radical extremists and crooks but it also appears delighted to count them among their number.
Are these the kind of people you really want representing you and being in charge of affairs of the state?


Comments
comments