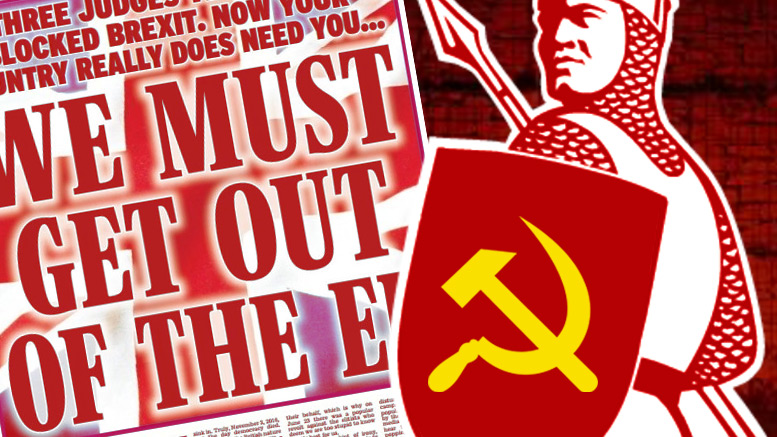 Rightwing media outlet the Daily Express is the latest free speech publication to fall into far-Leftist hands after it was bought out by the Reach group.
Last February, owner Richard Desmond sold the Daily Express publication along with the Daily Star and its publications including OK! magazine to far-Left Reach.
Reach – formerly the Trinity Mirror Group – is also a financial sponsor of the billionaire crime-baron George Soros endorsed leftwing hate group, Hope Not Hate which, in turn backs domestic terror group Antifa.
In May, the Cultural Secretary raised a Public Interest Intervention Notice to investigate whether the deal would impact on freedom of expression and opinion in the British media.
Following the resignation of the previous Express editor, Huge Wittow, editor of the far-Left Sunday Mirror, Gary Jones, stepped took up the position.
According to Jones, Express headlines have been "downright offensive" in the past and been responsible for "Islamophobic sentiment" in the media.
In spite of these statements by the new Leftwing editor, Ofcom declared itself satisfied that freedom of expression will not be compromised.
Evidently, the decision-makers at Ofcom are either oblivious to the fact that Leftists always bring their politics into everything they do, or Ofcom is actively pushing the Leftist agenda too.
Either way, Britain loses one of its last remaining Rightwing newspapers.
The takeover further highlights the vital role alternative news media and independent reporters have in defending free speech and our hard-earned freedoms from those who intend to take them from us by force.
The BNP is the ONLY political party which puts the interests of the indigenous British people first every time.
The BNP also and represents one of very last organisations which stands strong in the face of the growing Leftwing totalitarianism in British politics and the media – that's why we're counting on YOUR support!


Comments
comments