Six prolific Islamist paedophiles have been caged for targeting white children for gang rape.
The child rapists, all members of a Rotherham Islamist rape gang, were given sentences ranging between 10 and 20 years.
According to the Jay Report released in 2014, Islamist child rape gangs in Yorkshire are comprised predominantly of 'men of Pakistani heritage', who target vulnerable young white girls, ply them with drugs and alcohol before repeatedly gang raping them.
Judge Sarah Wright heard that one victim was 11 years-old when the gang rapes began.
She was passed around the Pakistani community and raped by men as old as 50.
Islamist apologists were left red-faced after members of the gang confirmed that their attacks on white children were acts of religious war by shouting 'Allahu Akbar' in court after hearing their sentence.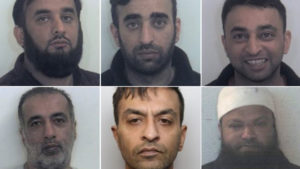 Curiously, despite the fact that these men singled out and preyed exclusively on non-Muslim white children, the horrific acts were not recorded as hate crimes.
This is the latest in a spate of prosecutions of Islamist child rape gangs which came about after the BNP forced an independent inquiry after a tireless 15-year campaign to to secure justice for the victims.
The material compiled by the late BNP activist in Rotherham, Marlene Guest, and her team provided the bulk of the evidence which the investigation relied on.
The subsequent 'Jay Report' revealed that at least 1,400 young girls had been drugged, tortured and repeatedly gang raped for years while the Labour-run Rotherham Council and the South Yorkshire Police turned a blind eye, and the BBC colluded with police to persecute and prosecute BNP activists for speaking out.
So horrific were the finding of the report, that even The Sun newspaper was forced to admit that the BNP were right all along.
The failure of Muslim authorities, elders and spokesmen in these communities to condemn these horrific crimes is also grounds for alarm.
Rotherham remains the tip of the iceberg.
Islamist child rape gangs operate across Britain in all areas with a significant Muslim population.
British children deserve better.
The BNP has done more than any other political party to protect children and continues to pressure the authorities into hunting down Islamist child rape gangs.
Can we rely on your support? Join the BNP online here today.
If you are unable to join a political party, help us continue our campaign to bring justice for the victims of Islamist child rape gangs by donating to the BNP here now.
Comments
comments