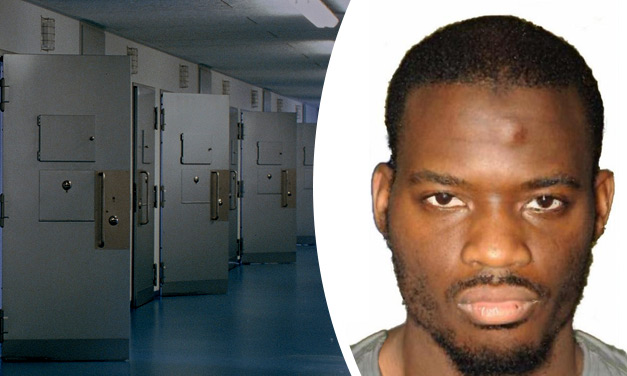 Some of Britain's most dangerous prisoners are being detained in a prison within a prison to prevent them from radicalising inmates.
The move shows signs that authorities are beginning to recognise the need for radical action to stop the spread of extremism.
Action in this area is welcomed but still falls tragically short of the necessary steps outlined in the BNP Ten-Point Plan to Counter Islamist Terror.
According to the Express, Islamist terrorists are being housed in a 'jihadi jail block' at HMP Frankland including the country's most 'dangerous prisoner', one of Lee Rigby's killers, Michael Adebowale, who is serving a whole life sentence, never to be freed – costing the British taxpayer a staggering £250,000-a-year.
Others in the separation centre are said to include Tanvir Hussain, 36, who planned to blow up flights from Heathrow to the United States using liquid bombs hidden in soft-drink bottles.

Dhiren Barot, 44, who masterminded a plot to explode a radioactive 'dirty bomb' in Britain and Omar Khyam, 44, who was convicted of planning to blow up the Bluewater shopping centre in Kent.
The Ministry of Justice said:
"Offenders are placed in the specialist centres if they are involved in planning terrorism or are considered to pose a risk to national security.
"Those seeking to influence others to commit terrorist crimes, or whose extremist views are purposely undermining good order and security in the prison estate, may also be placed in the centre."
The use of the word 'centre' is interesting since it is used in the same context in point 2 of the BNP Ten-Point Plan to Counter Islamist Terror which was formulated after the Islamist suicide nail bombing in Manchester:
2/ Introduce detainment centres
We are at war!
The Islamists have declared war on Britain; the British Government deliberately refuses to listen and accept the reality.
Given the surging level of crime committed by those in the Muslim community our prisons are being taken over and other prisoners forced to convert or face violent repercussions.
Action needs to be taken, and this needs to stop!
Isolate the sizeable Muslim convict population into separate prisons. Create special jails for Islamists awaiting deportation.
Island detainment or offshore detainment centre ships – remove the threat to all British citizens from our communities in the interest of all our safety.
The BNP's plan to create detainment centres for Islamist comes as former MET Police Chief Tarique Ghaffur announced the need for 'detainment camps' for Islamists.
Prison authorities have been very slow to react to the growth of Islamist extremism in prisons, despite strong calls from the BNP to recognise the problem and take action.
Muslims make up 5% of the population of the UK yet comprise 15% of the prison population and 20% of maximum security detainees.
Quilliam Foundation describe British prisons as 'ripe' recruitment grounds for extremists.
"Against this background, we note that some prisoners and staff found the Muslim presence overwhelming," stated a report carried out into British prisons in 2015.
It's taken years of warnings and scores of Brits dead in Islamist terror attacks for the prison authorities to begin taking the most basic action necessary, as Prisons Minister Sam Gyimah confirmed:
"The most dangerous and subversive offenders are now being separated from those they seek to influence and convert – an absolutely crucial element of our wider strategy to tackle [Islamist] extremism in prisons and ensure the safety of the wider public."
The BNP is the ONLY political party to have issued demands for radical action to be taken to protect British people from Islamist terrorists, and the ONLY political party to have produced a comprehensive plan to do exactly that.


Comments
comments