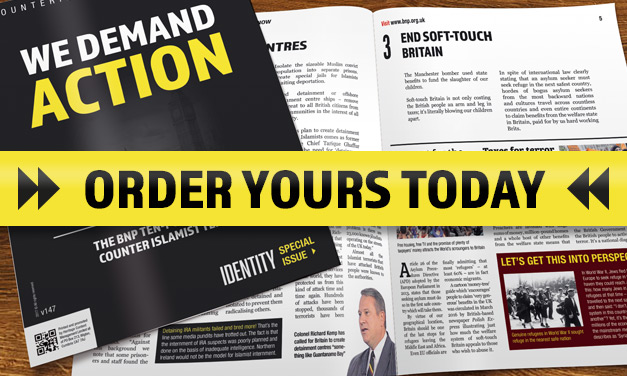 The terror attack today in Parsons Green, west London, has once again underscored the pressing need for radical action to be taken to prevent Islamist terror attacks in Britain.
The government has failed to introduce any critical and effective long-term measures whatsoever.
Even after Theresa May adopted the BNP mantra 'Enough is enough', and claimed that she was getting tough on Islamist terror following the suicide nail bombing of a children's concert in Manchester, nothing has been done, and all the responsibility for protecting British lives has been piled on our already over-stretched security services.
Inaction by the British government to root out the known 25,000 Islamist jihadis known to security services means that the British Government is guilty of harbouring terrorists.
The BNP is the ONLY political party which has drafted a comprehensive ten-point plan to tackle the critical threat of Islamist terror and protect the lives of British citizens.

Read the BNP Ten-Point Plan to Counter Islamist Terror here.
The latest special edition of IDENTITY features and elaborates on the ten points including insightful articles, evidence, and statistics supporting the radical (i.e. common sense) proposals by the BNP.
Don't worry if you're not already a subscriber to IDENTITY; you can order your special edition by subscribing online here today.
IDENTITY provides the best and vital information for any patriot who wants to keep abreast of the challenges facing our nation today by exposing the failures of the rotten Establishment political parties and keeping you up to date on what the BNP is doing to put the interests of British people first in their own country.
For just £13.95 you'll receive your quarterly issues – that's four professional and expertly crafted publications, jam-packed with all the essential reading every red-blooded and committed patriot needs.

If you have special requests for batch orders to pass on to friends, relatives, neighbours, and colleagues or maybe just a one-off issue for yourself, don't hesitate to contact Central Office by calling 0844 809 4581 – if lines are busy, please try again.
Enjoy reading your IDENTITY Special in the knowledge that you're ahead of the game and at the vanguard of defending your country against the Islamist invasion.
The BNP has set a precedent in British politics once again – the question now stands, how long is it going to take the lame Establishment political parties to catch up?
Read a sample of the comments on the BNP Ten-Point Plan to Counter Islamist Terror made online by visitors to the BNP website: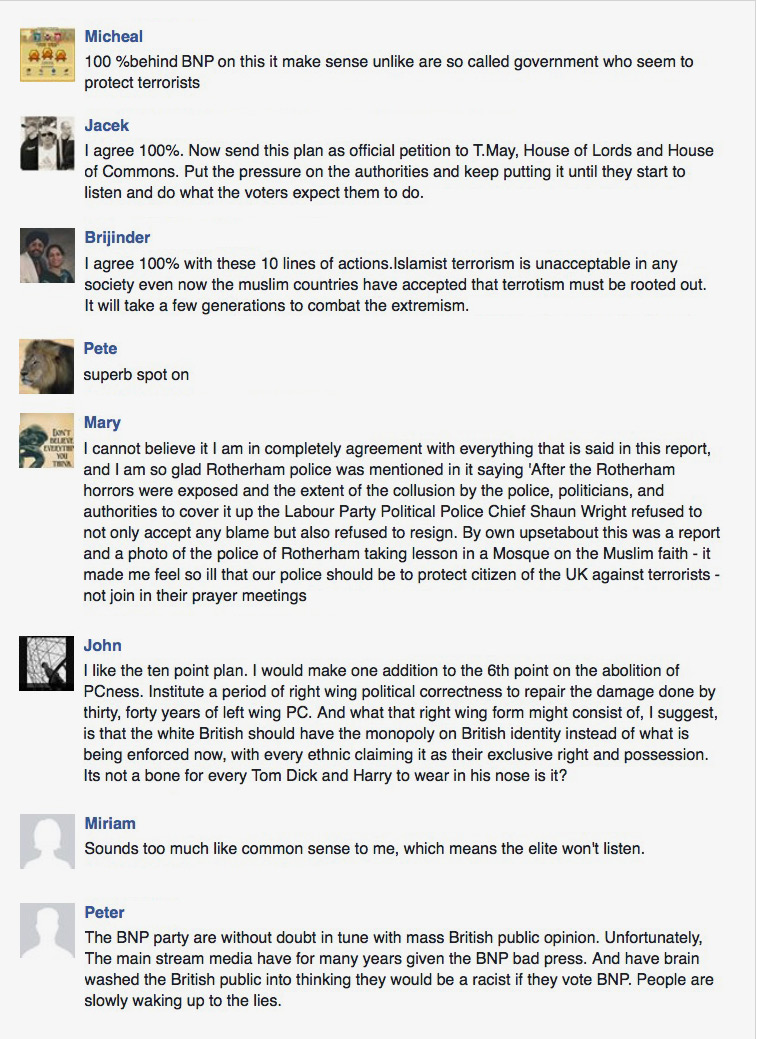 Comments
comments