East London BNP has held its first meeting of 2017.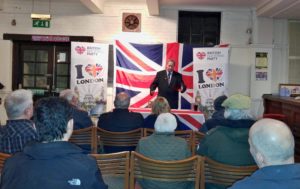 On Sunday 22nd January, East London BNP held the first branch meeting of 2017 in our capital city.
East London organiser Paul Sturdy was the main speaker for the evening.
During his speech, Paul touched on a broad range of domestic political issues (including Brexit, the National Health Service, immigration), in addition to news from Europe (Marine Le Pen, Angela Merkel).
Paul also talked about the inauguration of the 45th President of the United States, Donald Trump.
The general consensus among the audience was that Donald Trump was able to get his message across to the American voters by circumventing the main stream media (MSM), and by using social media and the alternative news sources of the internet.
After the break, we had the raffle draw before Paul introduced London regional organiser Mike Jones who spoke about future activities for the first part of 2017.
Ideas were put forward throughout the evening and activists took leaflets home with them for distribution in their own wards.
Comments
comments