Since the creation of the Lincolnshire Coastal Branch in 2008, over 1000 places have been filled at their Branch Meetings.
To begin 2017 and to add to the momentum from their most effective local leaflets, a January Meeting will be available to all Party members and true activists.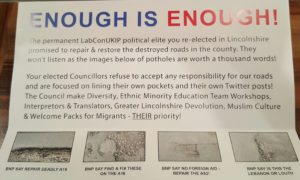 New local leaflets focusing on crucial issues in the county are propelling The British National Party to replace UKIP in Lincolnshire and patriots are encouraged to attend the forthcoming New Year meeting.
The evening meeting will focus on how the Party can deliver the change that is sought following the EU REFERENDUM result this summer and in the backdrop to the Donald Trump election success this Autumn.
Added to this, the decline in the fortunes of UKIP and an established professional team in place mean that the BNP is seen in a new refreshing light by many voters.
Lincolnshire is important as a bellwether county for the BNP in 2017 in our strategic development in the post-Brexit Britain.
Accommodation is available at the venue and all Lincolnshire meetings have been a significant success in recent years.
We are encouraging Groups and Branches to work together, sharing or exchanging ideas added to campaigning proposals, to guarantee real success for us in the future.
Make the decision to get active, or resume your political adventure, by attending this meeting.
Advance notification enables interested attendees to make arrangements to put the BNP First!
To obtain advance details on how to attend, and for information on accommodation, call/text 0771 400 9285 today!
Contact: Lincolnshire BNP, PO Box 9128, Lutterworth, Leicestershire LE17 9DD
Comments
comments