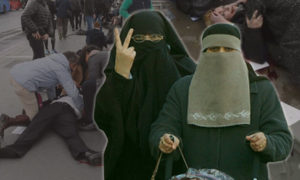 Austria has been blasted by the fascist EU for trying to escape its mandatory refugee resettlement programme.
Christian Kern, Austria's chancellor, sent a letter to the European Commission last month asking for his country to be exempt from the reallocation scheme.
However, not surprisingly, ultra left winger and traitor, Jean-Claude Juncker slapped down requests from the central European nation.
His official response read: "Austria is legally bound to participate in the relocation program and I personally expect that Austria fulfils its obligations."
Hungary has also come under attack recently for having the audacity to want to prevent their country from being swamped by potential Islamists, who are hell-bent on destroying Western nations under the banner of Islam.
Hungary's Defense Minister has announced that it is training 3,000 specialised "border hunters" to patrol the country's borders.
István Simicskó said mass immigration had been hijacked by Muslim terrorist cells and lone bombers following the religion of peace, but Brussels bureaucrats had failed to acknowledge the threat, instead choosing to bury their heads in the sand.
He said the new force, which will be trained by the police, will help reduce the number of soldiers needed along the border.
Simicskó said that "we are living in an age of hybrid warfare" and there were numerous threats coming from different areas using various methods.
Nato forces may also play a role in defending the EU's borders against illegal immigration, according to Simicskó.
The Eastern European nation has expressed an interest in raising its defence budget to comply with Nato regulations by 2024, Simicskó said, and the amount of Hungarian troops in Iraq would also be boosted.
President Trump has previously labeled Nato as "obsolete" and blasted member states for failing to commit to the agreed 2% of national GDP spending into the intergovernmental military alliance.
Hungary has been castigated by the EU for building fences and not giving in to their ridiculous quotas on refugee relocation; quotas that will ultimately end in mass genocide of the people of Europe.
An estimated 26,600 immigrants managed to reach Europe between January and March this year, according to a German DPA news agency.
"The world we live in today will become very different in a very short space of time unless BNP policies are put in place. Our policies are designed to make life better for everyone living in their homeland, regardless of where their homeland may be. They would work very well in any country to ensure the people of that country are looked after first.
What the EU is trying to do by bullying countries into accepting its ridiculous quotas is nothing short of criminal. The sooner we are free from its grip the better. I only hope that Theresa May does not betray the British people and that she keeps her word to free us from that fascist dictatorship. I will not be holding my breath, however" commented BNP Chairman Adam Walker.
The BNP is here for you!
What are you doing to help yourself and your family?
Don't expect us to do everything. To become bigger and stronger we need activists, candidates, writers, organisers, members, donors and motivated people. Get in touch and do your bit.
EVERYONE CAN DO SOMETHING!
INCLUDING YOU!
Comments
comments