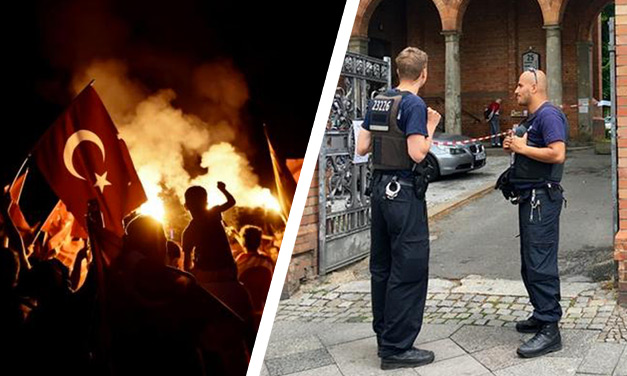 A media driven campaign to promote a 'gentler' Islam and showcase a 'liberal mosque' in Berlin has spectacularly backfired.
Mainstream media (MSM) outlets queued up to promote the event which Deutsche Welle described as a "world event in the heart of Berlin."
"Everyone is welcome at Berlin's Ibn Rushd-Goethe Mosque," gushed Deutsche Welle, announcing the grand opening last month.
"Women and men shall pray together and preach together at the mosque, while the Koran is to be interpreted 'historically and critically."
German reporters were brimming with warm feelings of fuzziness at the PC love-in, their numbers vastly outnumbering the handful of worshippers in attendance, while female Imam Ates was greeted with applause after announcing that there was no contradiction in her being a feminist and a Muslim.
A Protestant church in Berlin's Moabit district had vacated its prayer hall to make way for this new mosque in a disgraceful move aptly described by one commentator as "one way multiculturalism".
This new mosque opening was summed up by a slogan coined by Der Spiegel, "Islam against Islamism."
Another, Der Zeit, was bold enough to prophecise the future:
"Society in general will lionize [Imam Ates] as the long-awaited voice of Muslims that speaks clearly against Islamist terror."
Not to be outdone by their German counterparts, The Washington Post, hailed the mosque's female founder for apparently "staging a feminist revolution of the Muslim faith."
The MSM orgy of Political Correctness and 'unicorn-world' delusion was short-lived and about to be shattered.

As word reached Muslims across Germany and around the world, the liberal utopian dream soon descended into a Islamic nightmare.
Al-Azhar University in Cairo, the foremost authority on Sunni Islam, issued a fatwa forbidding the 'liberal mosque.'
Next, the mosque was deluged with hate mail and death threats to Imam Ates.
According to the The Guardian, while Imam Antes had received 300 emails of support a day – most likely from terminally liberal whites – she received 3,000 letters of hate and death threats a day from her fellow Muslim 'brothers and sisters'.
Reeling from the cold light of day, the MSM contacted for comment the head of the Central Council of Muslims, Aiman Mazyek, who merely shrugged his shoulders stating that of 2,100 mosques in Germany, he didn't need to comment on all of them.
Earlier this week, Der Tagesspeigel reported that the 'liberal mosque' had been granted "around-the-clock heightened police protection" at the expense of the German taxpayer.
Liberals will have us all killed at this rate.
Authorities need to be purged of all who advocate Political Correctness for all our sakes.
Europe doesn't need more Islam, it needs less Islam.
Find out more about the how the BNP will deal with Islamist terror and extremism here.


Comments
comments