A gun hoard, unprecedented in size, has been seized by police en route to Britain via the Channel Tunnel.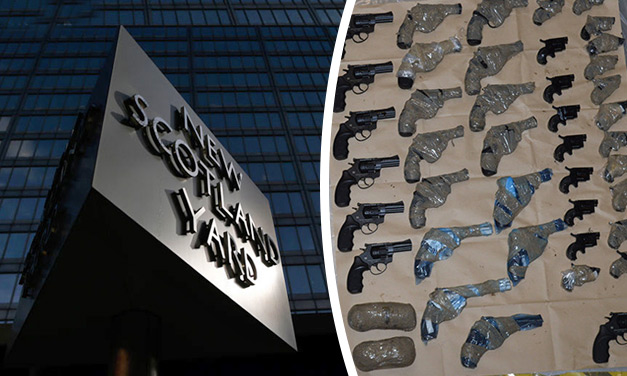 Two foreign nationals have been detained for their plans to 'enrich' the British nation.
Up to 79 "viable" weapons were seized from the trailer of a vehicle on Saturday in Coquelles, the French side of the Channel Tunnel, in a joint operation by the National Crime Agency (NCA) and detectives from Scotland Yard's organized crime unit.

Janusz Michek, 59, a Polish national, was one of the men charged at the scene, along with Denis Kolencukov, 23, a Czech national living Slough, Berkshire, who was arrested as he arrived in Dover from Dunkirk.
NCA Deputy Director Graham Gardner told The Telegraph:
"Our recent threat assessment highlights that handguns are still commonly favoured by some criminal groups in the UK.
"They may not be the largest firearm, but they are easily concealable and lethal in the hands of anyone prepared to use them."
The NCA described the haul as the "single biggest seizure of handguns bound for the UK to date."
In 2016, violent crime in England and Wales rose significantly according to the Office for National Statistics (ONS) with gun crime up 13% on the previous year and knife crime shooting up by 14%.
Multicultural London alone recorded a staggering 42% surge in gun crime in 2016.
From April 2016 to April 2017, the Metropolitan Police recorded 2,544 gun crime offenders, up from 1,793 the previous year.
Alarming statistics to say the least, strongly indicating that it takes 'multiculturalism' to achieve such a surge in violent crime.
The politicians have a great deal to answer for.
At the same time that multicultural enforcers, such as Theresa May, welcome hundreds of thousands of foreigners in to swamp Britain, she's introduced crippling 'austerity measures' to cut our police forces.
"Theresa May has failed to protect the public of this country," despite warnings from the the MET, a former police officer told RT.
"Sadly, the chickens are coming home to roost and it's not her, it's the communities of this country who are bearing the brunt of it.
"She needs to reverse the cuts to the police urgently."
Proper funding of police forces across the country is only one step to containing the symptoms; reversing the politicians' disastrous, failed multicultural experiment is what MUST take place to cure the disease itself.
The BNP is the ONLY political party which recognises the politicians' multiculturalism project for what it is: a vicious attack on the British people, our unique and precious British culture, and the very fabric of our once homogenous community.
Only the BNP has the political will to end the disastrous failed 'multicultural' experiment and restore a much needed sense of British identity, community and rule of British law to our beleaguered nation.
The BNP needs YOU! Join the BNP today.


Comments
comments