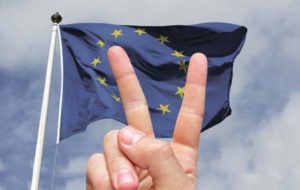 The British National Party's marathon campaign to get Britain Out of the EU, took a giant leap forward today when MPs voted 498 – 114 in favour of triggering Article 50, the legal mechanism that starts the two-year countdown to our independence day! 
Today's historic vote is a testament to the dedication of all the united leave campaigners' efforts and a huge slap in the face for the bitter and undemocratic Remain protestors, and this vote makes a mockery of their civil disorder and their endless marches, moaning and protests.
Their efforts to undermine British democracy crashed and burned today, clearly; even the Westminster elite knew how strong the national mood was against the hated EU.
The breakdown of the vote was very interesting.
All but one Conservative MP voted for Article 50.
With that safe majority, the vote could not have been won by the Remain camp even if all the rest voted against Article 50.
Another point of interest was that a significant number of Corbyn's bitterly divided Labour Party voted with the Conservatives.
It's not all bad for Labour, at least today's breaking news has succeeded in drawing attention away from the latest string of shadow cabinet resignations.
The SNP, of course, voted en masse to remain in the hated EU.
Their attempts to scupper Article 50 failed along with their motions for amendments to the bill.
Voting alongside the SNP were, of course, the LibDems and half the Labour Party MPs.
However, their combined vote to try and thwart Article 50 was crushed by the unexpected majority.
It's a great victory for the British people!
It's a great victory for common sense!
It's a great day for British independence and for the British National Party which began the Out of the EU campaign way back on 1982!
Well done to everyone who helped make this a reality.
We move on from here to help shape the future of a reinvigorated and independent Britain.
We now have an opportunity to make Britain great again!
Politics is on fire at the moment and big change is in the air.
There's never been a better time to get involved, so what are you waiting for?