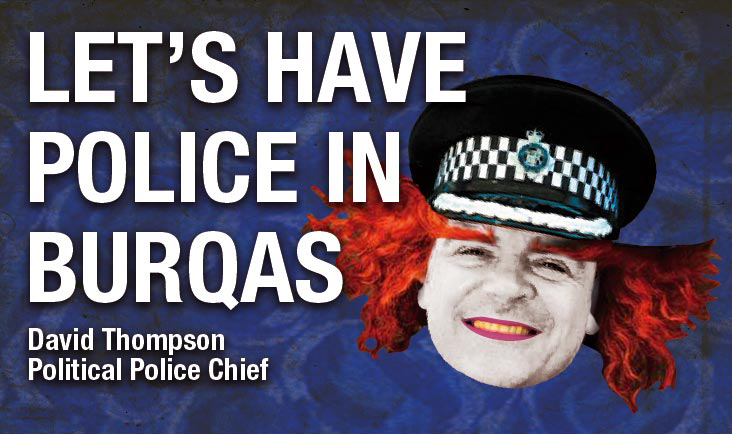 The British Police have said they want to put burqa-wearing Islamists on the beat in the latest insane announcement from a political police chief.
West Midlands Police Chief Constable David Thompson is desperate to meet government racist quotas to ensure 30% of jobs in the police force are denied to native Brits in favour of 'black and ethnic minorities'.
Scotland Yard has caved in after a number of Muslim women demanded the hijab.
Referring to his eagerness to submit to Islamists, the political police chief announced that:
"As it stands we have not had any approaches from potential recruits asking to wear the burqa but if such an approach was made it is something we would have to consider."
BNP Chairman Adam Walker responded to the requests from journalists for a statement:
"This is a clear sign of further capitulation to Islamists and a clear indication that the increasingly politicised police force in Britain is actively putting British people to the back of the queue while promoting the Islamisation of our country.
"Selecting recruits through 'positive discrimination' will cause further division by setting a clear precedent that political police in Britain approve of such racism.
"Whether the traitorous political elite in Westminster accept it or not, Islamists have declared war on Britain and the West.
"Actively seeking not only to recruit these people but to cave into their every demand is as insane as it is dangerous to the lives of citizens and our national security.
"Imagine if police chiefs in Turkey – a Muslim state – tried introducing such absurd measures, they'd be ridiculed and removed from office before they'd finished their sentence.
"The political police chiefs in Britain are not fit for purpose."
JOIN THE BNP TODAY: https://www.bnp.org.uk/signups/memberships/credit-debit-cards
In bending over for Islamists, West Midlands Police is now set to consider the abolition of the police dog unit, separate male and female officers, and reject job applications from gay and Jewish people to ensure Muslim recruits feel no discomfort in their privileged positions of authority.
Ensure too that you are not a victim of crime during Muslim prayer time because officers will not be responding to your call.
Enough is enough – it's time you joined the British National Party.
Join the BNP here online or call now on 0844 809 4581 and join the fight against Political Correctness.
Comments
comments