Donald Campbell was a world speed record holder.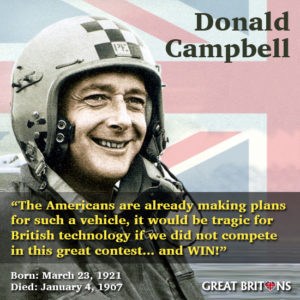 Donald Campbell's father was Sir Malcolm Campbell
Donald's father was Sir Malcolm Campbell, a pioneer in speed records, who himself broke 13 official world records during the 1920s and 1930s.
As a record-breaker, Malcolm Campbell inspired his son to continue the family's tradition of speed record-breaking attempts.
On the outbreak of the Second World War in 1939, Donald volunteered for the Royal Air Force (RAF).
However, he was rejected due to ill-health, so he obtained a job as a maintenance engineer.
After his father's death in 1948, Donald became actively interested in seeking to attempt new speed records on both land and water.
World speed records of Donald Campbell
Campbell broke eight world records for speed on both land and water.
In 1951, he developed the Bluebird K7 – an all-metal jet-propelled 3-point hydroplane with a Metropolitan-Vickers Beryl jet engine.
Between 1955 and 1964, Campbell set seven world speed records, increasing the world record from 202 miles per hour in 1955 to 276 miles per hour in 1964.
After dominating the water speed records, he switched to the more challenging land speed records.
In 1964, Campbell set a record of 403.1 mph (an average over a measured mile) for a four-wheeled vehicle (Class A).
Furthermore, at one point during the run, Campbell reached a speed of over 440 mph.
Later in the year, he broke the water speed record near Perth, Western Australia – setting a speed of  276 miles per hour.
The Unbeaten Double
Donald became the first person to hold both water and land speed records in the same year (1964).
He is still the only person to have held both land and water speed records at the same time.
In addition, Donald Campbell remains the world's most prolific breaker of water speed records.
The Need for Speed
After his world land speed record of 1964, Campbell decided that he wanted to go faster.
His vision was of a supersonic rocket car with a potential maximum speed of 840 mph.
"The Americans are already making plans for such a vehicle and it would be tragic for the world image of British technology if we did not compete in this great contest and win".
Campbell's plan for his own supersonic car, The Bluebird Mach 1.1, did not happen due to his death in 1967.
Death of Donald Campbell
On 4 January 1967, Donald Campbell died on Coniston Water, just before completing his attempt to raise the world water speed record to 300 miles per hour.
The Bluebird K7 flipped in the rough water and landed nose-first at over 300 miles per hour.
The boat disintegrated, and Campbell died instantly.
In January 1957 Campbell was awarded a CBE for his water speed record-breaking exploits.
On 28 January 1967, he was posthumously awarded the Queen's Commendation for Brave Conduct "For courage and determination in attacking the world water speed record."
On the 8th March 2001 – 34 years after his death, divers raised the wreck of Campbell's boat, Bluebird, from the bottom of Coniston Water.
A few days later. divers found the remains of Donald Campbell.


Comments
comments