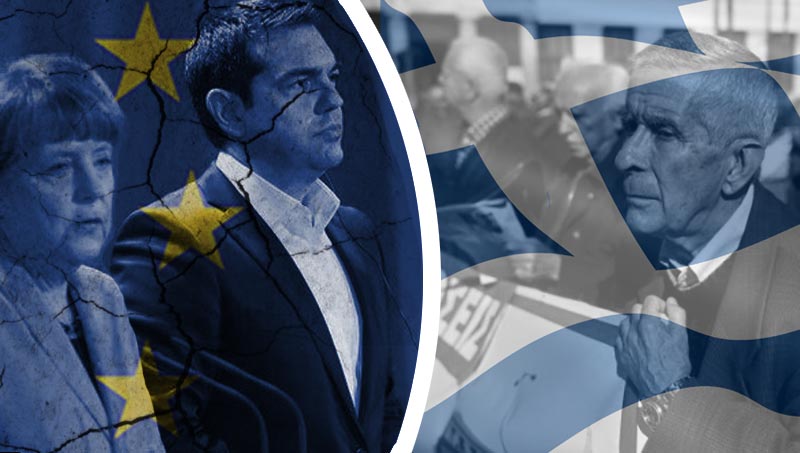 As if anyone needed more proof that the EU puts the profits of globalist banking before the people, the EU has frozen a bailout deal for Greece after the Greek government gave a Christmas bonus to pensioners living on the breadline.
Greek prime minister, Alexis Tsipras, announced that €617Million would be distributed as a pensions bonus to help the most vulnerable this winter.
The European Commission, in line with European Central Bank (ECB), the European Stability Mechanism (ESM) and the International Monetary Fund (IMF) responded by declaring that the payout broke the terms of a debt relief deal agreed last year, meaning that the deal must be frozen.
Swallowed by the disastrous EU project, Greece is one of many nations which has been declared bankrupt as a result.
The failure of the EU has plunged European nations into crippling national debt, driving tens of millions of European people into severe poverty.
The Christmas bonus fallout could hamper efforts by Athens to secure a SECOND bailout out for Greece.
BNP National Spokesman, David Furness, interviewed by Russian TV said:
"This incident is further proof that the EU is about totalitarian control of the European continent and the plunder of it by international banking and globalist tycoons, all at the expense of the people.
"It's also an effort by a deeply unpopular socialist government in Greece to bribe a core of its voters after having banned the populist opposition party, Golden Dawn.
"The Greek government is a perfect example of the totalitarian, desperate and undemocratic character that is the root cause of the EU's current collapse. 
"Our very best wishes go out to the Greek people on this, their day of Christmas celebration.
"The BNP will continue to step up its campaign to have the British government trigger Article 50 and take Britain Out of the EU."
Comments
comments