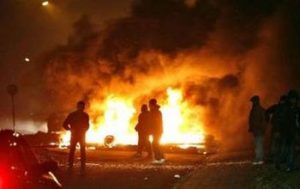 Malmo, Sweden's third largest city has seen a surge in violent incidents.
During just three months over the summer in 2016, more than 70 cars were torched by rampaging immigrant thugs.
At the time, police said they believed the intense period with car blazes had been sparked by a crack down on organised crime but as anyone who has been watching things unfold in Sweden knows, the real reason for this carnage is the huge numbers of male Muslim immigrants that have been allowed to flood into the country.
Police Officer Erik Jansåker said:
"This, in my opinion, is criminal people who are lashing out because of our efforts to crack down on the serious organised crime."
In our opinion, this mess has been created by weak government policy and the failure to police violent third world immigrants properly.
This has resulted in Sweden teetering on the edge of destruction.
"We've watched over the past years how traitors in the Swedish government have changed the demographics beyond repair by encouraging immigrants to settle in what was once a very beautiful country. 
"Just like we are increasingly seeing in Britain, as a way of thanking their hosts, these foreign hordes have shown nothing but contempt and hatred towards them.
"Unless the British government stops immigration into our country NOW, I fear we will be facing the same problems that Swedes are experiencing here in Britain in the very near future," commented BNP Chairman Adam Walker.
In addition to vandals starting infernos, the hard-hit city is also struggling to cope with crime as Malmo has been described as a "lawless city" and a "battlefield" as the immigrant fuelled surge in crime continues.
On New Year's Eve, a traditional time of good cheer and celebration in Europe, police were forced to admit the city was not safe as immigrant gangs sent fireworks into crowds and chanted "jihad" in front of terrified locals.
Swedish police last year issued a report where it detailed incidents from more than 55 areas which it branded as 'no-go zones' as it detailed brutal attacks on police, sexual assaults, children carrying weapons and general turmoil sweeping across the country.
The only political party tough enough to deal with the problem of immigration before the streets of Britain resemble those of Sweden is the British National Party.
Don't let the government in Britain do this to us.
Do something special today and join our fight here.
If you are unable to join, please consider making a donation here.
Comments
comments