First, I would like to thank everyone who has donated so far to the Stoke-on-Trent Central Parliamentary
 by-election appeal – the response has been incredible!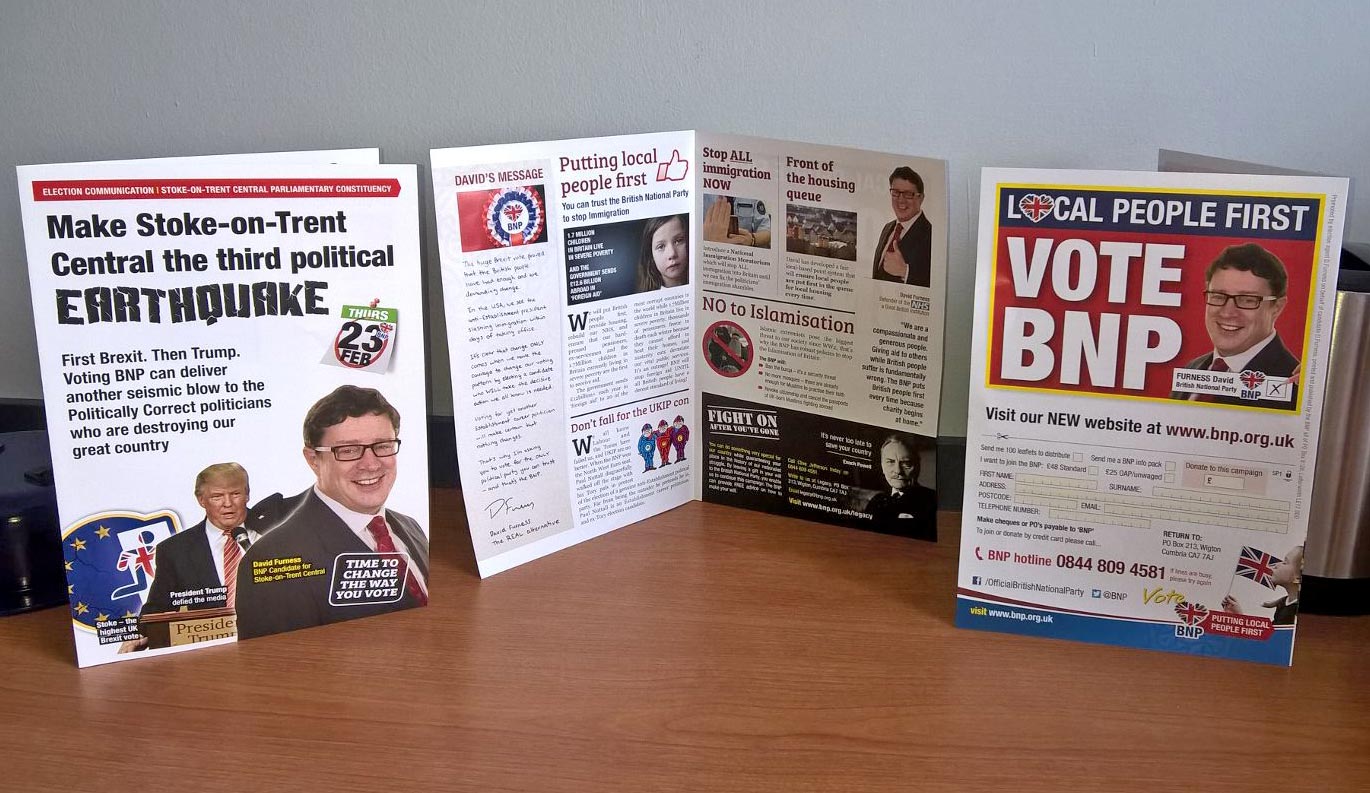 ==> VIEW THE FULL LEAFLET HERE <==
As a 'thank you', David Furness, our high profile BNP candidate for Stoke-on-Trent Central, has asked us
 to post his leaflet online for all BNP members and supporters to see what their support and generosity has afforded – his superb full-colour A3 leaflet.
It's one of the best pieces of election literature we have ever produced and FOUR times bigger than the standard election leaflet – the largest dimensions that Royal Mail permits.
We've been able to push the boat out and upgrade our election material for one reason – YOU.
Your passion and generosity have enabled us to move up a gear.
Every penny raised in this appeal is going,
 as you can see, directly to supply our political soldiers on the frontline.
You're doing your part, and our publicity department and admin staff are doing their part in preparing,
 printing and dispatching our top of the range material.
Our activists are doing their part on the ground, led by our National Press Officer and candidate David Furness, who has vowed to stop all future mosque plans and developments in Stoke.
Our combined efforts are really starting to pay off.
==> DONATE TO DAVID'S CAMPAIGN NOW <==
For the first time, our very own BNP candidate has been invited to ALL hustings and is due to appear,
 not only in the local media but on the BBC and The Politics Show.
It's your continued support and the tireless efforts of a unified BNP over the last twelve months that has resulted in forcing our way back on to the top table.
Without the string of election successes in 2016, the media and the election hustings organisers would
 have frozen us out of this high-profile election platform, but as always, they underestimate the tenacity, 
sense of purpose, passion, and quality of the British National Party.
==> DONATE TO DAVID'S CAMPAIGN NOW <==
Our response to this snap by-election has been brilliant, but it's not over yet.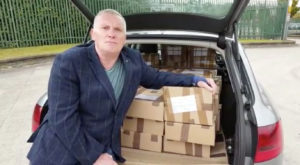 50,000 copies of the election leaflet enclosed in this envelope are falling on doormats as you read this letter, and with another two weeks to go, we now need to capitalise on the work so far and keep the pressure on!
As long as you keep supporting David, we are ready to roll out a full online advertising campaign and bus in officials, activists, and members to the hustings so that our man will be entering the fray with the support
 he needs to stand up against the typical cowardly Labour bullies and their choreographed lynch mob.
With your help, the BNP will be there in force to turn the tables on the traitors that are wrecking our country.
This last-minute appeal is vital.
The BNP is fighting harder than ever before.
That's why I am asking everyone to dig deep, push the limits and give our frontline troops the support 
they need – and they'll do you proud.
Time is critical, donate to the campaign on our BRAND NEW WEBSITE here or pick up the phone NOW and call 0844 809 4581 to donate to the
 Stoke-on-Trent Central by-election campaign.
==> DONATE TO DAVID'S CAMPAIGN NOW <==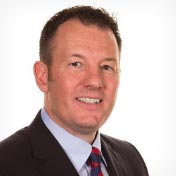 Let's keep the pressure on!
Adam Walker
BNP Chairman
Comments
comments