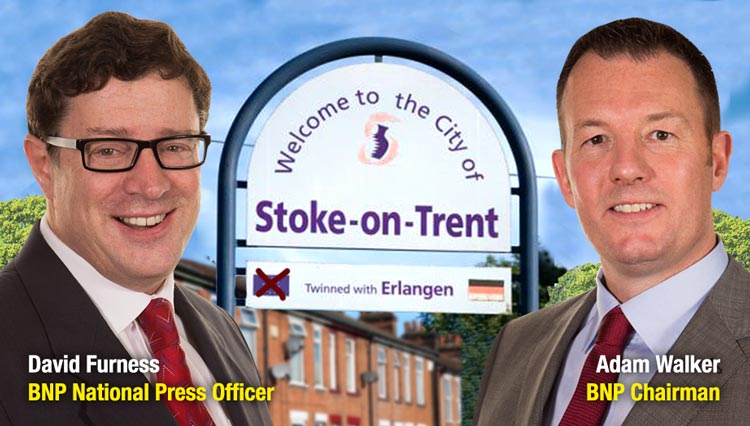 It's 2017 and the world of politics has never been more exciting!
Owing to our continued pressure, it appears likely that, against the odds, we might succeed in forcing Theresa May's Tory Government to trigger Article 50 bringing about Brexit and giving the British electorate what they voted for – a total withdrawal from the failed and hated European Union project.
Across the Atlantic, the desperate political left are rabidly trying to overthrow Western democracy.
Spurred on and inspired by their British counterparts, the good people of America have voted to make their country great again by putting in office an avidly pro-American president.
The great political upheavals of 2016, have shaken the rotten political Establishment to the core and brought it to its knees, and across the European continent nations are poised to follow suit too.
==> DONATE TO THE ELECTION CAMPAIGN <==
The Front National's Marine Le Penn is currently the most popular figure among voters in France in the run up to national elections later this year; support for Geert Wilders' party in Holland is at an all-time high; the Five Star Movement is surging in Italy; the Freedom Party in Austria is enjoying more popularity than all its rivals; the AfD in Germany is gaining increasing support as Merkel's party slumps to a new low, and nationalist political movements in countless other countries are steadily building momentum.
And the best news is that these political movements are smiled upon by the new US President Trump.
Of course, as ever, things are different on our island nation where nationalism is deemed the greatest threat to the Establishment.
In our time, the BNP has made the issue of Immigration the biggest topic in Britain, started the Out of the EU campaign and will be seeing it through to victory, and our plight has inspired our continental counterparts to do the same.
Thanks to the BNP, Mass Immigration is now being recognised by the people for what it is; an orchestrated policy of national destruction by stealth, a genocidal attack on all white people both in the nations of Europe and across the globe, and a facilitator for mass murder, terror and rape.
The BNP is a major force for influence in British politics.
We're winning. Now it's VITAL that we redouble our efforts and press home our advantage.
We must keep our attention firmly fixed on the biggest threat currently facing Britain and the world – ISLAM.
I know you will have been as outraged as I was when news came through about the Islamic call to prayer being broadcast from INSIDE one of our country's most historic Christian sites, Gloucester Cathedral.
We are not alone in our outrage.
==> DONATE TO THE ELECTION CAMPAIGN <==
The public outpouring of disgust at this naive, foolish and offensive 'multifaith' attempt at appeasement backfired on the liberal elite of the Church (CofE) prompting them to hurriedly withdraw the video and article from the internet as people, initially in Britain, then right across the world condemned the sacrilege.
It's clear that, not only the Government, but the Church and the Judicial system are all feeding into the Politically Correct surrender of our sovereignty, our culture, our security and our hard won freedoms.
Last month, Islamist Hate Preacher, Anjem Choudary, charged the taxpayer – that's you and me – a staggering £162,000 for his legal aid bills.
Last week, the news came in that Islamist Hate Preacher, Hani al-Sabai, accused of inciting the London 7/7 terror attacks and the Tunisian beach slaughter of 30 Brits in 2015, has been given £123,000 to fight deportation – it's almost beyond belief.
So get angry, get very angry… and here's what we need to do:
Now's the time to power forward and build on our great election results.
We must keep up our fantastic run that has seen us take control of our first council in Essex and place a strong third in the recent Batley & Spen by-election rocketing us into the national media with full rat packs of reporters and film makers frantically following our candidate's every move enabling us to reach to millions.
We now have another incredible opportunity in the fast approaching Stoke Parliamentary by-election to be held on Thursday 23rd February.
This is set to be the biggest political event since Brexit, and we need to be in that contest giving the people of Stoke – a nationalist hotbed that was the highest Brexit vote in country as well as having a high percentage of BNP members – an opportunity to vote BNP.
==> DONATE TO THE ELECTION CAMPAIGN <==
The media coverage alone is an opportunity we cannot miss and I'm convinced we need to stand in all these high profile elections.
But you know better than anyone; we can only fight back against Islamisation, stop and reverse mass Immigration, and change the political landscape of our country in favour of OUR people if you demonstrate your dedication and commitment, I know you have, by supporting this vital fund raising drive.
The BNP can, and will, speak out for you and fight for YOUR rights, BUT ONLY if you play your part and help us fund this exciting and necessary election campaign.
As always, we have little time before this snap election.
It's another way the rotten political Establishment try to keep the will of the people at bay and out of these contests, so it's vital we all put in our 100% and step up our commitment and enthusiasm and take this fight to them.
The British National Party is the only genuine anti-Establishment political party in Britain.
BNP campaigns for the interests of the British people, and our election campaigns are funded solely by the British people.
Time is of the essence, I'm stepping up to lead the campaign along with our National Press Officer, David Furness, to give the people of Stoke the opportunity to deliver another seismic blow to the rotten Establishment.
We're putting ourselves on the frontline, all I'm asking you to do is donate to our campaign today.
Donate online here or call the donation hotline 0844 809 4581 NOW.
==> DONATE TO THE ELECTION CAMPAIGN <==
Best of British,
Adam Walker
BNP Chairman
Comments
comments