Paris and its suburbs lost 1.5 million tourists last year as visitors stayed away due to the Islamic terror atrocities.
The Ile-de-France region lost a huge 1.3 billion euros in income from tourism, while the number of nights spent by tourists in the region's hotels also fell by almost 11 per cent.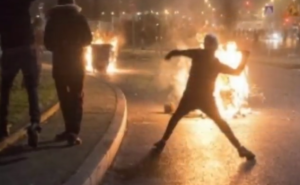 In a report by Comité Regional du Tourisme some of the city's attractions 'have suffered deeply from the lack of tourists and cancellations by school groups' which saw visitors to The Arc de Triomphe drop by a massive 24 per cent.
The world's second most visited museum, The Louvre, which earlier this month was subject to an attack by Abdullah Reda Refaei al-Hamamy who was armed with a machete shouting "Allahu Akbar", also saw a 13.3 per cent drop last year.
Even Disneyland Paris has been affected by the ongoing Islamic onslaught and saw a 9.5 per cent drop in foreign visitors.
February has seen a host of disturbances in the city's suburbs, with one coach load of Korean tourists robbed in the troubled Saint Denis area, when four black men climbed aboard their coach, shouting threats.
The violent scenes began after a black youth was allegedly raped with a police truncheon while being arrested.
Rioting spread through the suburbs with windows smashed, shops looted and cars burnt out.
The South Korean government have subsequently issued a warning regarding nationals from visiting Paris as tourists, which will cause further damage to France's ailing tourism industry.
Covered on this site only last week, the city also announced that it would build a bullet-proof wall around the Eiffel Tower, with visitors forced to enter through new security check points.
The French capital suffered one of the worst terror attacks in recent European history in November 2015, when 130 people were killed in a series of bombings and shootings across the city.
Those attacks came just months after Islamists stormed the offices of satirical magazine Charlie Hebdo and murdered several staff, including the editor.
Meanwhile, French police have raided the headquarters of Front National (FN) presidential candidate Marine Le Pen over 'fake job' claims while she is currently on a trip to Lebanon.
The raids are part of an investigation into an alleged 'fake job' given to one of Ms Le Pen's bodyguards using European Union (EU) funds.
How cowardly… waiting till she is out of the country.
Few French will not see this as an abuse of government power for political gain.
Don't the French police have better things to do like take back their streets and suburbs of Paris?
While Paris burns, the police raid the offices of a political party that the establishment wishes to destroy.
Truly we live in terrifying times.
The Establishment police fail to dig up any dirt the first time, so they come back again.
But they are not merely looking for evidence of 'fake' jobs, that was the pretext, they are seeking any dirt they can pin on FN to stop Marine Le Pen from being elected.
I would not put it past them to plant 'evidence.' No doubt the homes of FN candidates are next.
The long knives are out now!
The corrupt system will not allow Le Pen to win.
Democracy is an illusion, and the truth seems to be a lie.
This jackbooted response by the Mafia-like EU is exactly why so many people want to free their country from its grip.
Unless the French are not stupid, they must know this is entirely political.
The 'elite' still haven't woken up to the fact that this sort of filthy leftist action is what is driving people away from them.
Comments
comments