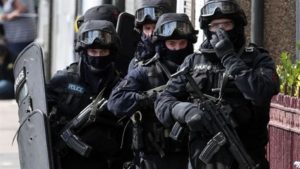 An Islamist from Stoke has been charged with eight counts of planning terror attacks.
39-year-old resident of Turnstall, Kanran Sabir Hussain, was arrested on 14th February by the West Midlands Counter Terrorism Unit.
The charges contradict section 1(2) of the Terrorism Act 2006.
According to the Stoke local news outlet The Sentinel, Islamist Hussain is alleged to have been recruiting for terror group ISIS while working at a mosque in Stoke-on-Trent.
The charges came on the same day that gaffe-prone UKIP leader, Paul Nuttall, and his team spent the day campaigning at a mosque to beg Muslims for votes for Thursday's parliamentary election.
Last week, the Labour Party candidate, Gareth Snell, came under investigation when a text message of hate was distributed around the considerable Muslim community in Stoke condemning Muslims to hell if they didn't vote for Labour and in the interests of Islam.
The British National Party is the ONLY political party which will put the interests of indigenous British people first in our homeland – isn't it time you joined the BNP?
Join the BNP online here or join over the phone by calling 0844 80 4581 today.
If you are unable to join a political party, do your bit by donating to the British National Party online now.
Comments
comments