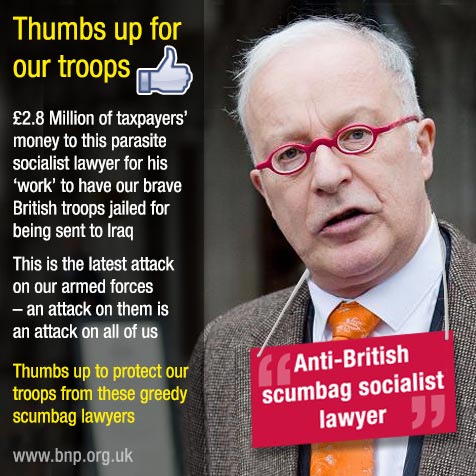 Phil Shiner is the self-proclaimed 'socialist' lawyer whose now defunct firm, Public Interest Lawyers, made millions of pounds pursuing vexatious cases against members of the British Armed Forces for alleged 'war crimes' committed in Iraq.
Yesterday the anti-British lawyer was struck off the solicitors' register.

For years, Shiner falsely accused British troops of murder and torture, hounding them through the courts and putting them and their families under untold psychological torment – even pushing some to the brink of suicide.
Colonel Richard Kemp, former infantry commander and veteran of both the Iraq and Afghanistan wars, claimed Shiner helped incite our jihadist enemies at home and around the world.
BNP Chairman and British Army veteran Adam Walker gave a statement to reporters while out on the election campaign trail in Stoke-on-Trent:
"This man should be locked up on charges of treason.
"By inciting attacks, both here and abroad, on our Heroes he has aided and abetted the enemy.
"He has done so for his own financial gain and his anti-British political agenda and forced our soldiers to relive over and over again the nightmares they had endured on the battlefield.
"The BNP welcomes the move to end his soliciting practice; now he must be prosecuted to the full effect of the law.
"The BNP will be campaigning to ensure that the Government does just that."
"In fighting for our Heroes, the BNP are also continuing our campaign to secure the release of 'Marine A' Sergeant Alexander Blackman.
"The British Government must start putting the interests of those who protect this country above all else.
Support the campaign for our Heroes, join the British National Party online here today or join over the phone by calling 0844 809 4581 now.
Comments
comments