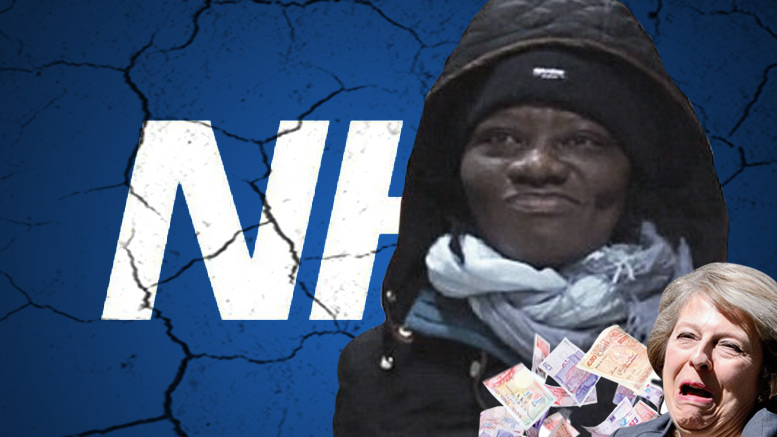 A single health tourist from Nigeria has racked up Britain's biggest ever unpaid bill after leaving a hospital with a debt of more than £530,000.
The unnamed Nigerian arrived in Britain and went straight to a Manchester hospital to give birth to triplets.
Happily for the native Nigerian, the British taxpayer is being forced to pay her colossal bill.
It's a staggering sum which surpasses the previous outrageous record by £30,000, one stolen by another Nigerian mother, 43-year-old Priscilla (pictured above), after doctors delivered her quadruplets at London's Queen Charlotte's and Chelsea Hospital in November 2016.
The huge sum is part of the £2Billion that the British taxpayer is forced to pay each year for foreigners to abuse our NHS and claim for themselves free healthcare.
It's a criminal mismanagement of the NHS by the government and tantamount to the theft of the British taxpayer by handing over the money paid for their own healthcare to those that have never paid in a penny and have absolutely no intention of ever doing so.
The government's failure on the NHS has greatly added to the country's shameful reputation as 'Soft Touch Britain', acting as a magnet to the world's scroungers who spend their money on flights to Britain to claim free healthcare before absconding.
While the actual figure of foreigners abusing the NHS is uncertain because hospital bosses have cited 'patient confidentiality' allowing them to conceal the 'health tourist's' nationality, age and gender, it's estimated that thousands, overwhelmingly from the third-world, travel to Britain to claim free healthcare every year.
It's free for them because the government forces the British taxpayer to foot the bill.
Failure by the government to tackle this scandalous abuse has been cited by some lead doctors as an agenda to speed up the creeping privatisation by hastening the collapse of the NHS.
That might indeed go a long way to explaining the government's betrayal of the British taxpayer and their record of failure of the NHS.
The latest outrage comes hot on the heels of an NHS member of staff publicly apologising for the '3rd world' conditions of the A&E department at his Stoke hospital.


Comments
comments