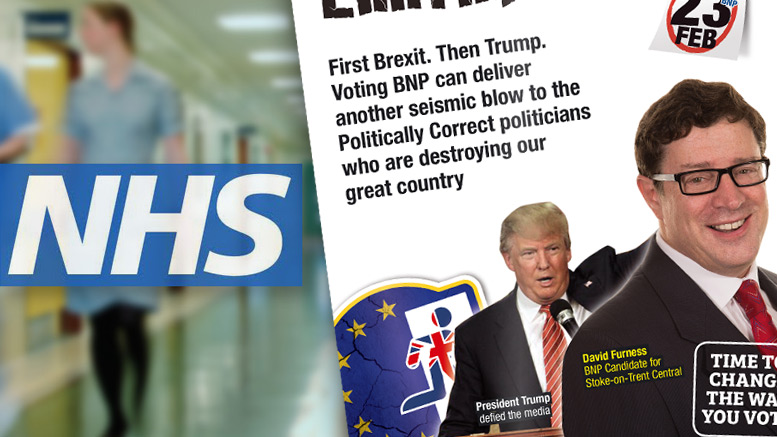 BNP foresight has been proved second to none once again after an A&E Consultant at the Royal Stoke University Hospital in Stoke-on-Trent tweeted his heartfelt apologies for the "3rd world conditions."
Earlier this week, Dr Richard Fawcett made national headlines after tweeting:
"As an A&E Consultant at RSUH NHS, I personally apologise to the people of Stoke for the 3rd world conditions of the dept due to overcrowding."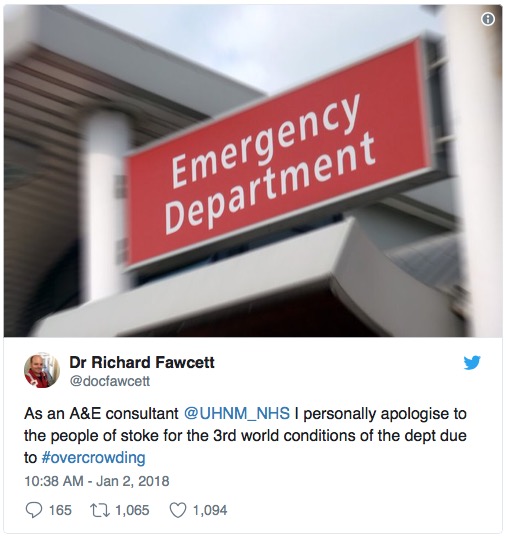 The doctor's revelation of the terrible conditions of NHS hospitals proves the BNP have been correct again.
Last February, BNP Press Officer David Furness contested the Stoke-on-Trent Parliamentary by-election standing on the promise that he would make it his prerogative to "rebuild our NHS."
Mr Furness even went as far as to title himself a "Defender of the NHS."
==> VIEW THE FULL LEAFLET HERE <==
The BNP has an extensive track record of accurate foresight, blowing the whistle on scandals and speaking out when all the other political pundits and parties remained silent – even persecuting and attempting to silence the BNP for doing so.
Now it's got to the point where brave and conscientious NHS staff must risk their careers to expose the failure of the political class and the appalling conditions of NHS hospitals in 2018.
In his election leaflet, Mr Furness also warned of the impending rise in Islamist Terror.
Last Autumn, the Stoke-on-Trent Mosque leader Kamran Hussain was found guilty of encouraging Islamist Terror and supporting ISIS and jailed.
The BNP was correct again.
The BNP is committed to rebuilding our NHS – a "Great British Institution" – stopping the £13Billion of British taxpayers' money being sent abroad each year in foreign aid and spending it instead on healthcare in Britain, and stopping all immigration until the politicians' immigration shambles can be put right, which will serve to greatly ease the burden on our NHS.
If you're an NHS member of staff and wish to share your concerns regarding the conditions in your overrun British hospital in complete confidence, please email David Furness.


Comments
comments