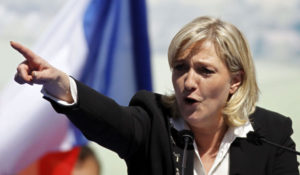 Market nerves have heightened to levels not seen since the eurozone crisis in select areas, after Marine Le Pen's odds of winning the French election increase daily.
The gap between French and German government borrowing costs, measured by two-year bond yields is now at its highest level since 2012.
This comes as the rising chances of a victory for the anti-Brussels candidate (and Frexit) grow stronger.
Worried investors are rushing to stockpile money into German safe havens.
The Euro has also come under fresh selling pressure, ahead of the first round of the French election later this month.
Emmanuel Macron is allegedly still the favourite to win the final vote in May, but the chances have now dipped to 63%, while Ms Le Pen's odds are now at 25%.
Misleading polls in the run-up to the Brexit vote and the US election have ensured markets remain on edge.
Le Pen has promised a Frexit vote if she becomes the next leader of France. Attention is focused on a key election debate between the presidential candidates which will take place shortly.
Kathleen Brooks, Research Director at City Index Direct, is reported to have said:
"As we lead up to the election later this month, the euro has been retreating and EURUSD has fallen below its 50-day sma at 1.0670.
"The French-German 10-year yield spread has also been on the rise again as we lead up to tonight's debate, it currently stands at 66 basis points.
"If Le Pen wins tonight then we would expect a swift decline in the euro and a sharp rise in the French-German yield spread."
BNP Chairman, Adam Walker commented:
"The BNP wish Marine Le Pen the very best of luck in the upcoming election. Regardless of the outcome, she can hold her head up high and say that she offered the French people a choice.
"Without any smears, meddling, financial market interference or tactical voting by her left – wing opposition, I am sure she will do very well indeed.
"We should not rule out that Le Pen's opposition, which is also our opposition, will do everything in their power to halt her progress".
Comments
comments