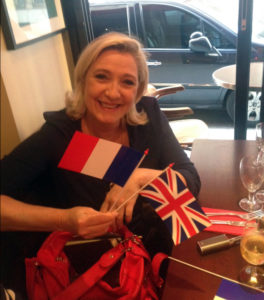 Marine Le Pen has pulled out of a meeting with the most prominent Muslim leader in Lebanon citing her refusal to cover up by wearing a headscarf.
The Front National leader is on a visit to Lebanon aiming to drum up support for the first round of her Presidential campaign.
Ms Le Pen was scheduled for a meeting in Beirut with Sunni cleric, Grand Mufti Sheikh Abdul-Latin Derian, but pulled out at the last minute.
Ms Le Pen said:
"You can pass on my respects to the Grand Mufti, but I will not cover myself up.
"I have met before with Grand Imam Sheikh al-Azhar in Egypt without wearing a veil."
BNP Chairman, Adam Walker, out campaigning with BNP Parliamentary candidate for the Stoke Central constituency, David Furness, took the opportunity to comment on the news when talking to reporters:
"Respect goes both ways.
"Ms le Pen has made a bold statement – respect me in adhering to my culture, and I'll respect you in adhering to yours.
"Respect does NOT mean capitulation… this is something that the spineless liberal leftwing political elite don't get.
"She's demonstrated that she will stick by her principles and I applaud her for that." 
Ms Le Pen has spoken out against the French foreign policy of interfering in Syria by trying to overthrow the sovereign government and its leader, Bashar al-Assad.
It's a view shared by her British nationalist counterparts across the English Channel.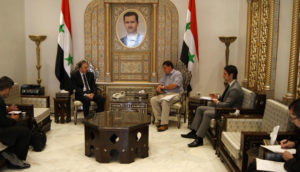 In August 2013, delegates from the British National Party leadership undertook a dangerous mission to Damascus after receiving an invitation from the Syrian government to work on rebuilding international relations which had been critically damaged and severed by the David Cameron and his ConDem government.
The official letter written by the BNP delegates and high-ranking officials from the Syrian government was sent to MPs before a crucial vote in Westminster, tipping the balance in favour of staying out of the conflict.
Announcing that without Britain the US would not be invading the Syria, President Obama backed down from illegally invading the country.
The BNP is the REAL party of peace.
Isn't it time you joined the British National Party?
Join the BNP online here or join over the phone by calling 0844 809 4581 now.
If you are unable to join a political party for any reason, show your support for the British National Party by making an online donation here today.
Comments
comments