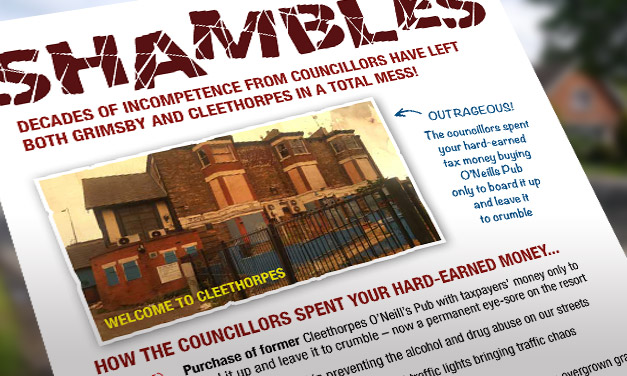 Residents in Lincolnshire were treated to another professionally crafted BNP leaflet this weekend, heaping more pressure on the increasingly unpopular local council.
The 'Council Shambles' leaflet is the latest in a series distributed as part of a renewed BNP campaign in the region.
"The BNP is increasingly being recognised as 'the party that listens' in Lincolnshire," said local BNP activist Alan.
"It's down to our campaigning on the issues that really matter to local people, issues such as local policing, keeping our streets clean, prudent spending of our tax money and, more recently, speaking out against a planned poultry factory which will house some 400,000 chickens at a time waiting for slaughter.
"But we're also focusing on holding to account Grimsby and Cleethorpes councillors on their shambolic performance, who have let down hard-working families by concentrating instead on their political careers and how they can get ahead at the expense of local people.
"The BNP is here to hold the political class to account for the failure.
"It's a message that local people want to hear and we're enjoying a great deal of positive feedback and support."
Isn't it time you got pro-active?
If you're in Lincolnshire and would like to join in the campaign, call Robert TODAY on 07714 009 285.


Comments
comments