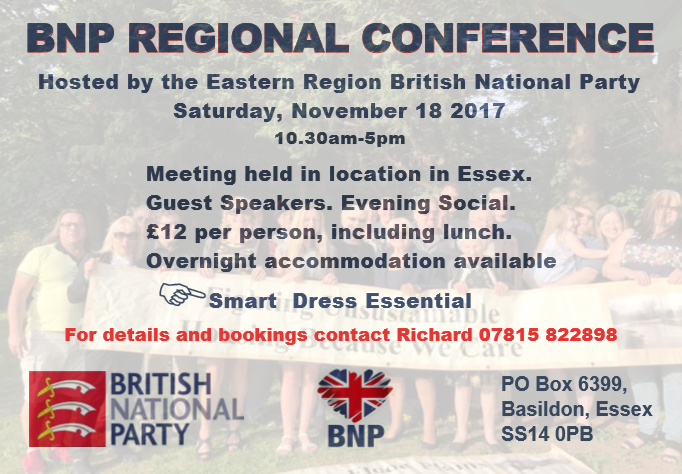 On Saturday 18th November, the Eastern region of the British National Party will be hosting a regional conference at a location in Essex.
It promises to be an event not to be missed with an excellent lineup of speakers throughout the day; the meeting will start at 10:30 am, finishing around 5 pm.
Attendees will be welcome to an evening social afterwards.
Entrance for the whole day will cost £12 including fish & chips or a vegetarian option for lunch.
Accommodation is also available at reasonable rates.
This event is open to BNP members from all regions.
For more information and to book your place, contact Richard Perry on 07815 822898 or Mike on 07908 649362.
The Eastern Region is a growth area for the British National Party.
Last week, the BNP gained another councillor in Essex.
Congratulations to recently elected Cllr Bullen who will be joining Cllr Richard Perry and his team in Heybridge, Essex.
The Eastern Regional Organiser, Richard Perry, was interviewed recently on Sky News by award-winning reporter Alex Crawford.
The interview covered topics such as immigration, Brexit, and unsustainable housing.
Comments
comments