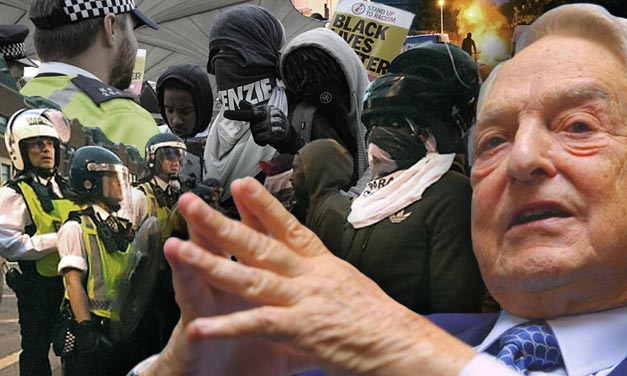 A protest last night in East London against alleged 'police brutality' descended into violence resulting in the injury of 6 police officers and the arrest of four rioters.
Rioters threw bricks, started a number of fires and trashed a police car as they descended on Forest Gate police station.

Firefighters had to be protected by police as they attended a blaze following the 'Justice for Edson' protest in Newham.

Edir Frederico Da Costa, known as Edson, died in hospital six days after he was detained in Newham on June 15.

His family allege he was brutally beaten in custody and his neck was broken, which the Met Police denies.

The Independent Police Complaints Commission (IPCC) said a preliminary post-mortem examination, carried out on Thursday, indicated there were no spinal injuries caused by police.
Given the institutional Political Correctness that cripples Britain's police forces and the repercussions that would take place – both in terms of civil unrest and legal prosecution – it seems unlikely police would intentionally subject a black man to such injury.
The post mortem is yet to be carried out.

Despite claims by the mainstream media that Black Lives Matter (BLM) is a legitimate and respectable organisation, its modus operandi has been characterised by riots, vandalism and violence of all kind and even racially aggravated murder of police officers in the United Sates.
Bizarrely, the focus of wide scale vandalism, destruction and arson has been in their own communities.
To understand the nature and aims of BLM, we need look no further than its principal sponsor – one George Soros.
Soros is practically every corrosive and subversive leftwing pressure group committed to the destruction of Western culture and society, including leftist hate groups conceived, funded and dedicated to countering the BNP's electioneering.
Through his nefarious Open Society Foundations, BLM has already received $33Million in grants.
For all its talk of being a street uprising, Black Lives Matter is increasingly awash in cash, raking in pledges of more than $100 million from liberal foundations and others eager to contribute to what has become the grant-making cause du jour.

The Ford Foundation and Borealis Philanthropy recently announced the formation of the Black-Led Movement Fund [BLMF], a six-year pooled donor campaign aimed at raising $100 million for the Movement for Black Lives coalition.

[…]

"The BLMF provides grants, movement building resources, and technical assistance to organizations working advance the leadership and vision of young, Black, queer, feminists and immigrant leaders who are shaping and leading a national conversation about criminalization, policing and race in America," said the Borealis announcement.

In doing so, however, the foundations have aligned themselves with the staunch left-wing platform of the Movement for Black Lives, which unveiled a policy agenda shortly after the fund was announced accusing Israel of being an "apartheid state" guilty of "genocide."
Soros, of course, is a staunch Zionist, but his priorities are such that he cares not who he funds as long as their aims are first and foremost the destruction of the West.
Curiously, the Soros network has funded scores of LBGT organisations in Western nations and been directly involved in promoting a gay rights revolution in the Arab world in general, and in Iran and Egypt in particular, but refused to fund the Israeli LBGT.
It's anyone's guess as to why Soros would deny Israel of this kind of 'enrichment', perhaps it's got something to with wanting to avoid subverting Israeli society?
Comments
comments