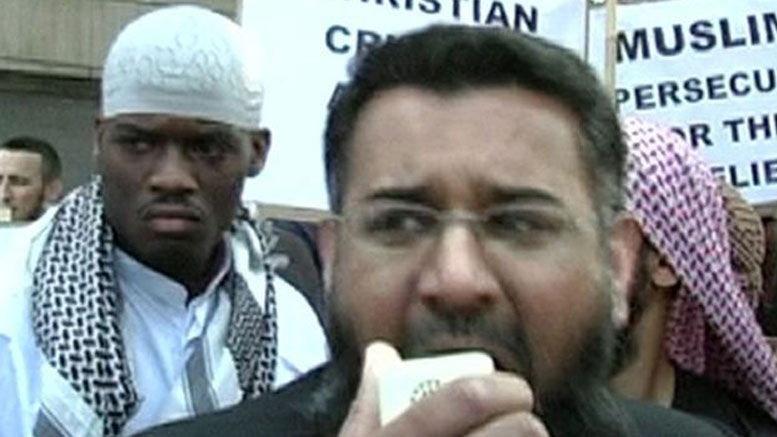 The most notorious Islamist Hate Preacher in Britain, Anjem Choudary, has been released from jail after serving just half of his 5 year sentence for pledging allegiance to ISIS and recruiting for the Islamist terror group.
Choudary, is considered by authorities to be so dangerous that he was swept out of Belmarsh Prison in south-east London at 4am this morning in a blacked-out people carrier followed by a convoy of unmarked cars carrying armed police and MI5.
Now he's looking forward to spending the next 6 months in a London hostel situated next to a primary school.
There he can enjoy the comfort of his own room complete with double bed, wardrobe, chest of drawers and other furnishings paid for by you, the British taxpayer.
Grovelling Islamist apologist Theresa May has attempted to assure the British public that this latest betrayal will not put more British lives at risk.
She announced that extra security measures (paid for by you, the British taxpayer) will be put in place to guard against him inciting his fellow Islamists to slaughter more members of the British public.
Former BBC correspondent, Choudary has incited hundreds of Islamists to join ISIS and slaughter British people – including the two Islamist savages who butchered British soldier Lee Rigby.
Choudary's early release is a travesty of justice which further highlights just how much of a danger the Government and its Politically Correct authorities and police forces are to the lives of British citizens.
Earlier this year, a report released by watchdogs branded its police forces a "serious risk of harm" to the British public for trawling social media for so-called 'hate speech' and frolicking in feathers at gay pride marches instead of answering 999 calls reporting serious crime.
With the early release of Islamist Hate Preacher Anjem Choudary, Theresa May has proved that she and her political class now present a serious and existential threat the lives of the British public.
In the highly praised Ten-Point Plan to Counter Islamist Terror, the BNP layout all the radical and vital measures needed to protect the lives of British people.
The BNP is the ONLY political party in Britain with the courage and resolution to call out the suicidal idiocy of the political class and their police, and protect the lives of British citizens against the foreign invaders that they've allowed into the country.
The Government in Britain is now putting lives at risk.
ENOUGH IS ENOUGH! It's time you too took a stand!


Comments
comments