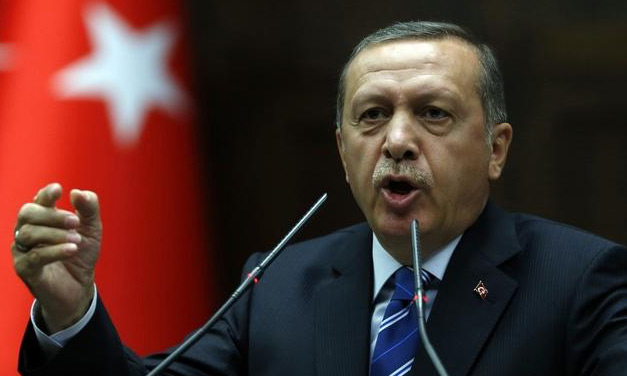 Turkish President Recep Tayyip Erdogan has spat his dummy out again after announcing on Sunday that Turkey no longer needs the EU.
The comments come after 12 years of accession talks with Brussels which have been marred by all kinds of unsavoury arm-twisting from the belligerent Turkish despot including bribery and veiled threats.
"We will not be the side which gives up," Erdogan announced last weekend, before stating that actually Turkey doesn't actually need "EU membership anymore."
Erodgan's crackdown following an apparent failed 'coup' last year has resulted in the detainment of tens of thousands of people including teachers and journalists bringing about widespread international condemnation.
Apparently referring to Ankara's requests to extradite foreign-based anti-government coup suspects, Erdogan claimed that the EU had failed to appreciate the seriousness of the threat and did not respond to appeals.
"The EU failed us in a fight against terrorism," the Turkish President complained.
"If the EU is going to leap forward, there is only one way to do so.
"And it is to grant Turkey membership and start an action of cultural and economic growth."
His son Bilal who plays an important role in Turkey's politics went even further and branded Turks who lived in Europe and "wear clothes, watch films, listen to music and eat Western food" as "gavur" (infidels).
"In this country, nothing was allowed to be done nationally.
"Now, we produce our own aircraft, our tank, our rifle.
"Why are we looking for these infidel attitudes?
"We are the grandsons of an ancestor with swords, rides, arrows," Erdogan's son blasted as he addressed a crowd of Western-suit clad men.
The term 'Gavur' is an offensive term historically used in the Ottoman Empire for Christians, such as Orthodox Christians in the non-Muslims in the Balkans.
In an election debate last month, German Chancellor Angela Merkel, whose country has the second biggest Turkish population outside of Turkey, said it was clear Turkey should not join the EU and entry talks should end, despite it being a crucial NATO ally.
Turkey is also the only country in NATO to be unofficially occupying the territory of another NATO country.
In 1974, Turkey imposed a self-declared state in the north of the Greek island of Cyprus.
The 'state' is only officially recognised by Turkey and remains a highly controversial since it contravenes several UN Security Council resolutions.
Erdogan has also levelled threats against Germany and Europe as a whole, been accused of 'intentionally Islamising' Europe by financing the travel of immigrants from North Africa while continuing to extort vast sums of money from the EU in return for allegedly holding back the hordes of Muslims trying to reach Europe.
The BNP was the first political party in Britain to oppose British membership of the European Union.
Permitting a nation which lies outside of the recognised land mass of the European continent (except for territory it annexed from Greece) comprising 80Million Muslims to join the EU is madness.
Only the likes of David Cameron and his Cuckservative ilk could possibly want such a thing!


Comments
comments