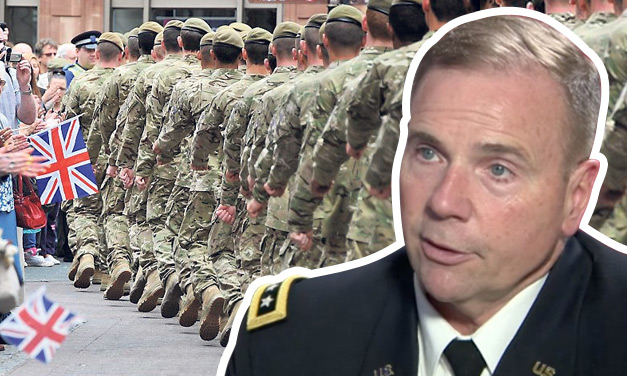 A senior US general has warned against cuts to the British Armed Forces stating that Britain's standing in NATO and as a "global leader" would be diminished.
If Britain "got any smaller" as a military power the nation would be unable to meet its international commitments, Lt General Ben Hodges, commander of the US Army in Europe explained.
The Army, Royal Navy, and the RAF have been told by the MoD to make deeper cuts to the tune of £20Billion – while Theresa May's government continues to send a staggering £13+Billion abroad in 'foreign aid' every year to twenty of the most corrupt countries on the planet.
A former head of the British Army agreed with the US general, describing his remarks as "well-founded" and "timely".
At present, Britain's position as a leader in NATO is at stake, the General told the BBC adding that he could not "see how you could maintain those global commitments if you got any smaller".
"It's a leader in the alliance and if it can't sustain the level of commitments it's fulfilling right now, then I think it risks going into a different sort of category," he stated, out of concern that Britain was demoting herself to becoming a 'second-rate' power.
The cuts to the British Armed Forces are coming at a time when the US is urging other NATO members to meet their two percent of DGP spending target to "take the pressure off other countries" being required to spend more on defence, he said.
The BBC interview with Lt Gen Hodges was conducted following a two-day meeting at the NATO headquarters in Brussels.
Britain's new defence secretary, Gavin Williamson, joined the US General and ministers from 28 other member states, including US defence chief James Mattis.
"Lt Gen Hodges is absolutely right," stated BNP Chairman Adam Walker, himself a British Army veteran.
"Britain has always been a significant ally of the United States and a long-time leading nation of NATO."
"We have a unique position in NATO, not least because of our military prowess in the theatre of conflict, but owing also to our experience, significance, status and influence as a historical colonial power."
"With the renewed US commitment to NATO, Britain must also renew our dedication to the alliance and ensure that the British Armed Forces are not only fit for the purpose of protecting the British people and British interests abroad but also meet our obligation to our key allies.
"Cutting funds to our armed forces is an irresponsible move and a dangerous one considering that Britain and the West face a heightened and ever-present international threat.
"The money CAN be found – where there's a will, there's a way – and the proposed cuts by the MoD prove that this government has neither the will or the competence to effectively manage our safety of our nation, nor the dedication to our Armed Forces and allies."


Comments
comments