The British National Party will be the only patriotic Party in Lincolnshire to commemorate this Remembrance Sunday the thousands of aircrew who specifically flew in Lancasters from RAF bases in the county on operations in WW2 and did not return.
This Remembrance Sunday (13th November) our team in Lincolnshire will lay wreaths at RAF memorials to proudly honour the 55,000 aircrew from Bomber Command who flew 390,000 sorties from 101 operational bases – many of which were centred in the County.
Over 70 years ago brave aircrews from squadrons across Lincolnshire following night bombing precision sorties in Lancasters and dangerous ' gardening' missions ( RAF slang for sowing mines) were awoken after 10 hours sleep with traditional fish & chips.
During many October 1943 missions a diet of dried Spam sandwiches, chocolate and plentiful coffee provided nourishment before and after hundreds of Lancasters fully laden with bombs struggled to lift off from Lincolnshire airfields on 'channel dashes'.
The Lancaster was a formidable night Bomber which raided the cities of Berlin, Cologne, Dusseldorf, Dortmund, Essen, Hannover, Leipzig and Nuremburg and as a political party we remember its key historical role in the air offensive between 1942 & 1945.
The Lancaster of course flew the biggest operational efforts from Lincolnshire RAF bases and for the first time it was chosen for ' window' to be dropped. This was the code name for thin strips of aluminium which, when dropped in bundles, effectively blinded the radar then in use by the German defenders. Window had been available for use before by the RAF but it was feared the Germans would use their window called 'duppel' in reprisal attacks, but the time was ripe in 1943 as the RAF had the upper hand in the bombing war.
When window was explained for the first time at briefing, it was greeted by guffaws of disbelief; ' another mad boffin' was blamed. The aircrews were wrong, the boffins were right; it was a winner and must have saved the lives of hundreds of airmen.
The British National Party has taken 'flak' for advocating a host of policies over the last decade but we too have been proven to be right. We are overwhelmingly praised for raising the Immigration threat as a crucial factor in our nation's future and as we as a Party are recently refuelled and ready for action!
This Remembrance Sunday our activists will carry out the task of respectfully remembering the thousands of pilots, bomb aimers, gunners, navigators and wireless operators that were killed whilst flying the Lancaster Bomber from Lincolnshire following the fulfilment of their battle orders.
Supporters of this political party and patriots should note the words in the attached message (pictured below) issued to all airmen on 6 June 1944 regarding D Day which helped change the course of history forever.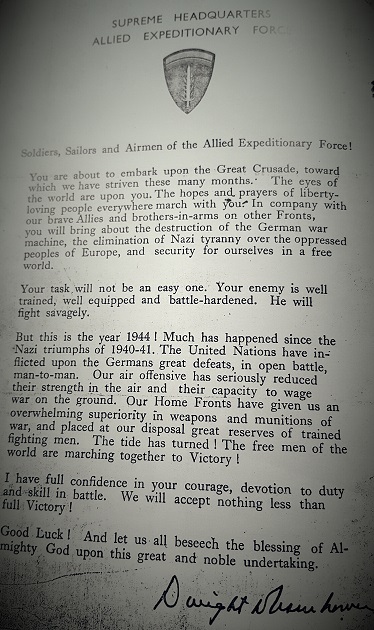 Note the message contained in paragraph 2:
"Your task will not be an easy one. Your enemy is well trained, well equipped and battle – hardened. He will fight savagely."
It could well apply today as we in these islands 72 years later face the growing threat of Islamic Terror.
Lest We Forget.
Comments
comments