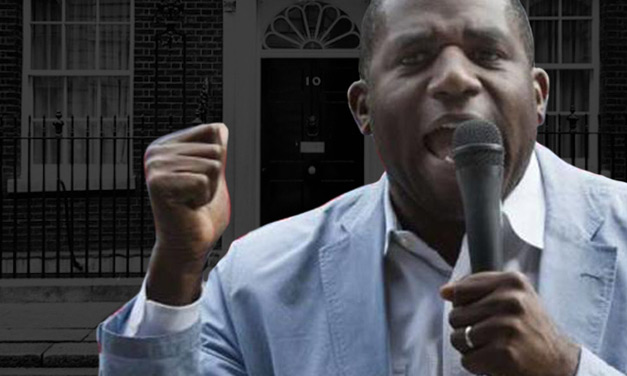 Freedom Post
Labour career politician David Lammy is at it again – hurling racial abuse at white people all the while lavishing privileges on anyone outside of the category of 'white'.
The Tottenham MP has gone on Twitter attacking the democratically elected US President accusing him of being – you guessed it… what else would a leftist call someone who disagrees with them? – a "racist KKK and Nazi sympathiser." [Yawn!]
Speaking about President Trump's planned state visit to Britain, Lammy invoked pride in his 'blackness' (though married with kids to a white woman) announcing:
"If I have to chain myself to the door of Number 10, this black man will do it."
Clearly oblivious to the irony of a black man putting himself in chains, Lammy told a leftist 'anti-racist' group meeting in his constituency that he would lead 'street protests' in London of the kind that has descended into race-fuelled black mob riots in recent months resulting in many thousands of pounds of property damage in their communities, mindless vandalism and attacks on police officers.
Lammy is the latest in a string of privileged members of 'ethnic minorities' bestowing on themselves victim status and calling out the US President, the most high-profile of which being his fellow 'nasty party' colleague, the Islamist London Mayor Sadiq Khan.
Lammy's online rant has further highlighted the growing chasm between the worldly mindset of those in the capital city and the rest of the of the country.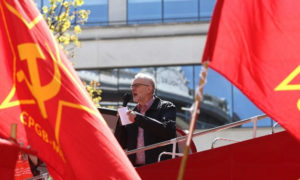 If Lammy is so morally superior to the US President, why did he not call out his beloved leader Jeremy Corbyn when the latter spoke at a rally flanked by huge Communist flags.
The Communist flag is drenched with the mass slaughter of more than 100Million people.
Lammy is a supporter and proponent of fascism when it flies a blood-soaked red flag.
Given that Labour has surpassed itself in recent years by snatching the 'nasty party' crown from the Conservatives – not least for its rabid and unbridled anti-Semitism – Lammy would do well to put his own house in order before hurling fatuous, unfounded allegations and racist slurs.
Oh, and please refrain from ranting on about chaining up blacks, Dave, it's simply tasteless!


Comments
comments