A Labour Party Civil War is ready to explode just as its annual conference begins.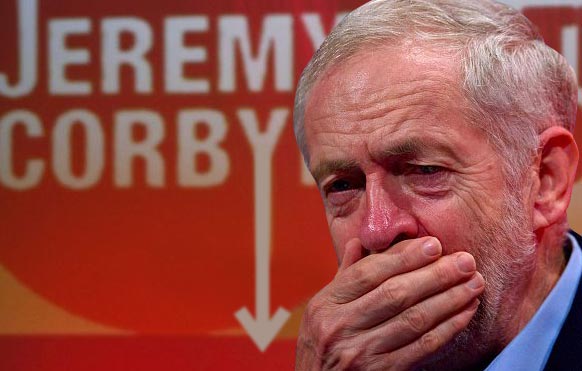 The Labour annual conference starts on Saturday 21 September 2019 in Brighton.
There are two reasons for the impending civil war.
1. Labour Party activists demand to remain in the EU
Despite Jeremy Corbyn's personal position, Labour activists are determined to force a vote on Labour's Brexit policy.
Corbyn has refused to say whether he would campaign for Leave or Remain at a possible second EU referendum. Instead, he has hedged his bets by saying that "the public should decide".
Also, Jeremy Corbyn is scared of a general election.
Pro-remain fanatics said they would support a vote on Labour becoming a 'Remain party'. Furthermore, they insist that, in the event of a second referendum, the Labour Party must concentrate all its resources on remaining in the EU.
The Labour Remainers, who are in no mood for compromise, are ready to do battle with anyone who disagrees with them.
Unaware of the irony of ignoring the largest democratic mandate in British history (the result to leave the EU), Labour MP Clive Lewis spoke out.
Lewis, MP for Norwich South, said:
"Labour is a democratic party…90% of our members don't want Brexit to happen."
Despite most Labour members in favour of Remain, they may not have the courage to undermine Corbyn. So, it's likely to be a narrow win for Corbyn's second referendum with the option between a Labour-approved deal to leave or remain in the EU.
A Labour-approved deal to leave the EU is very likely to be a 'Brexit in name only deal'. Such a deal would be catastrophic for the UK.
Moreover, Labour's proposed second referendum plan is anti-democratic. We have already voted to leave!
However, numerous shadow cabinet ministers want the Labour Party to commit to a campaign to remain in the European Union.
Keir Starmer, John McDonnell, and Emily Thornberry are desperate to campaign to remain in the EU.
Labour Party is in turmoil because they face losing Labour Remainers to the Lib Dems. If they declare themselves as a Remain Party, then they risk losing the votes of Labour Leavers.
However, there is another factor to consider in the looming Labour Party civil war – Tom Watson. 
2. Motion to abolish Tom Watson's deputy leader post
Allies of Jeremy Corbyn from the far-left Momentum group have tabled a motion to scrap Tom Watson's post. 
Watson said the Labour Party must 'unambiguously and unequivocally back Remain'. But Corbyn disagrees with this approach.
Momentum believes that Tom Watson is trying to cause trouble between Labour's Remain activists and Jeremy Corbyn.
Unlike the Labour Party, the BNP's position on the European Union is very clear: The People voted to leave the EU, so let's leave — with no deal if that's what it takes!