Jeremy Corbyn has been branded "dangerous" and a security risk by the former MI6 boss Sir Richard Dearlove, who announced that he is deeply "troubled" by the Labour leader's past associations.
Among Corbyn's anti-British associates Sir Dearlove includes Hezbollah, Hamas and the IRA – with whom he actively marched while IRA terrorists plotted the mass murder of British citizens.
Speaking to Sky News on Sunday, Sir Dearlove added that spy chiefs would be unable to hold secrets from Mr Corbyn if he gains power.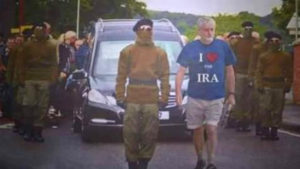 "That will be the democratic decision of the British people," said Sir Dearlove
"You have to treat him as Prime Minister.
"He may have abandoned them now, but I don't think you can entirely dump your past.
"He's enthusiastically associated himself with groups and interests which I would not say were the friends of the British nation."
More recently, Corbyn has voted against counter-terrorism legislation aimed at protecting the British people, refused to condemn the Kremlin over an attack on our soil and compared the actions of the US military, our closet international ally, to that of ISIS.
Along with the Labour Party Shadow Home Secretary Diane Abbott – ex-lover of Corbyn and his current righthand man – who announced just last week that she intend to dismantle Britain's borders and invite the entire Third World to invade our tiny island, Labour poses a grave threat to the survival of not only the British nation, but of the British people too.
Concerns are further heightened by the fact that the deeply unpopular, cringe-inducing and impossibly out-of-touch Tory Prime Minister, Theresa May, appears oblivious to her rock-bottom popularity and reportedly believes that more of her dire 'leadership' is what the British people want.
The BNP is the ONLY genuine alternative to the failed and tired old 'mainstream' political parties.
The BNP is committed to putting the interests of the British people first in Britain every time.
It's the reason why the political class, their corrupt authorities and their media mouthpieces are terrified of the BNP – because we force them to answer to the British people!
Only by way of a strong BNP can we force the politicians to honour, respect and enact the will of the British people.
Ours is strength in numbers, that's why we need YOU.
Join the BNP online here today!


Comments
comments