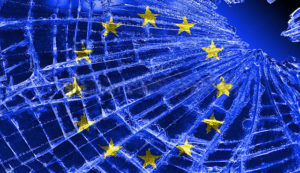 A furious pensioner tore into a small group of shameless Remain campaigners demonstrating against Theresa May's triggering of Article 50 in Sunderland recently.
In true North East fashion, the Grandmother Mary Ganning confronted the protestors, tackling their pro-EU beliefs by declaring that membership of the EU "has ruined this country".
The 70-year-old said her father had not fought in the war to let Britain be dictated to by 'Germans' from the seat of EU power in Brussels.
This mobile phone footage shows the moment the heroic grandmother let rip on the protesters while a policeman watches on.
"The EU has ruined this country and brought it right down," she blasted. "Why did my dad fight in the war? The Germans. They are dictating to us! We may as well have just laid down and said, come on in Hitler, take over."
In a desperate bid to stop the onslaught from Mrs Ganning, one of the Remainers shouts "rubbish" in response.
The 70-year-old then fires back and says: "How is it rubbish?"
Another protester then says: "You are 70-years-old, you obviously know what the country was like…"
However Mrs Ganning, once again, interjected: "It was better. It was a lot better. We were not dictated to by a set of Germans. You cannot do anything unless you get permission from them."
As she walks away, she delivered a final blow: "You want to go back to school and find out about history!"
According to local media about a dozen Remainers had congregated outside Sunderland Museum and Winter Gardens recently, to spit their dummies out, demonstrate against democracy and the Government's move to begin formal Brexit negotiations,
In true parrot fashion that is commonplace when brainwashed minorities gather, they were chanting "EU we love you" and waving the bloc's blue and yellow starred flag as Mrs Ganning walked to the bus stop on her way home.
The pro-EU demonstration was organised by the fascist group North East for Europe, who have been vocal in their campaign against democracy and last year's referendum result.
Discussing the confrontation, Mrs Ganning commented: "When I saw them I thought, 'oh God'. I said to them, 'You're too late, you've missed the boat.'
"We have voted Leave, and they were wasting their time just standing there. I was overcome with emotion; I thought they were being daft.
"I tried to explain to them that they were too young to know what it was like in the 60s and before when we weren't in the EU. It was better than it is now
"But they didn't understand. They might not have been born when we joined the EU."
The 70-year-old, whose father served in the Lancashire Fusiliers during World War Two, added: "I'm glad that we are leaving the EU. It might be tough, but I dread to think what it could be like when my great-grandchildren grow up if we don't.
"My father went to war so we wouldn't be dictated to by Germans and then we joined the EU and got dictated to by Brussels, Germany and the rest of them.
"I'm pleased I spoke out."
"Mrs Ganning's views mirror what the vast majority of people in Great Britain think. It is a shame that more people are not as vocal. Good on her for holding her ground.
 The BNP has campaigned to leave the EU since we were formed in 1982 and we are happy to stick two fingers up to the poorly educated and brainwashed deadbeats that are attempting to undermine the will of the people when they openly protest against democracy.
Leaving the death grip of the EU totally cannot come quick enough" commented BNP Chairman Adam Walker.
Comments
comments