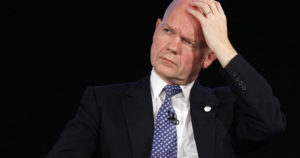 Longstanding eurosceptic William Hague has switched sides and is now supporting the campaign to keep Angela Merkel, the scourge of Europe, dictating the future of Britain.
No stranger to providing political favours and u-turns on policy for career advancement, the Tory monotone midget is now throwing his featherweight efforts into opposing the exit of Britain from the disastrous European Union.
Mr Hague, was last seen in 2013 humiliating himself on the world stage by failing to lead Britain into an illegal military attack on the Syrian Government on behalf of his US paymasters.
Happily, his nefarious scheme was thwarted after a BNP peace delegation travelled to Damascus to reopen negotiations with the Syrians.
Working in the Syrian Parliament our courageous BNP team co-authored an official letter from the Syrian Government which was then sent to all voting MPs resulting in the swaying of the Westminster vote against the illegal attacks.
Failure in his efforts to have Britain attack the Syrians resulted in his being unceremoniously dumped earlier this year as First Secretary of State by his pals in the Conservative Party.
Mr Hague's record of failure goes back further still.
In 1997, he was also dumped as leader of his Conservative Party after he failed to prevent an already deeply unpopular Tony Blair from being elected Prime Minister for a second term.
He was replaced by the apparently more charismatic Iain Duncan Smith.
Leaders of the campaign to keep Britain shackled to the EU were reportedly distraught at Mr Hague's endorsement of their campaign.
The BNP is committed to assisting Mr Hague in continuing his unbroken record of failure.
The BNP is stepping up its campaign to take Britain the Out of EU.
Comments
comments