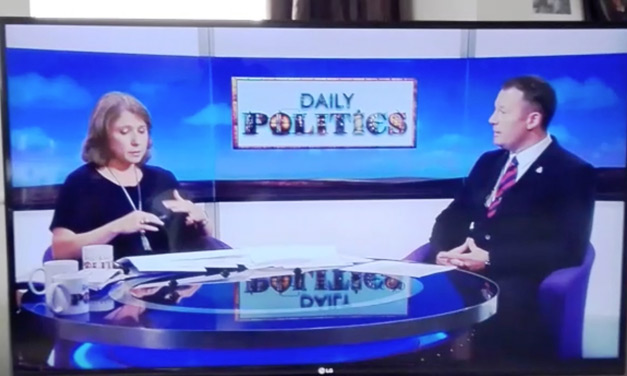 Adam Walker has appeared on the BBC's Daily Politics show earlier today to discuss the BNP's increase in candidates in this year's General Election.
The BNP Chairman braved the expected hostility of presenter Jo Coburn to thwart a planned political ambush.
Mr Walker slapped down a laughable 'report' by the fake media of BNP membership numbers, proving the MSM (mainstream media) is incapable of competent research and truthful reporting.
Cherry picking from the comprehensive BNP manifesto, Mrs Coburn relentlessly questioned Mr Walker on the BNP policy to provide financial support to those people of immigration background and living in Britain who wished to return to their country of origin.
Of course, the BBC research team failed to recognise that this policy was introduced by the Labour Government and is still national government policy today under the Conservatives.
Instead she opted to talk over the BNP Chairman and interrupt his response.
Out of the hot seat and on to less hostile territory, Adam took to Facebook and Twitter to give his impressions of the interview taken in moment by BNP National Spokesman, David Furness on his mobile phone – by the quality of it, a 1999 Nokia 8210, but hey… we can't all be down with the kids!
"The phones haven't stopped ringing since the interview," smiled BNP National Spokesman, David Furness.
"Many people are angry at the fact that the presenter constantly interrupted Adam and never let him finish his point.
"It's to be expected from the BBC, which has a flawed record of being fanatically hostile to the BNP and British patriots.
"All agree it was a great showing from Adam.
"In a hostile interview it's always a battle to get our voice heard and points across without being interrupted and spoken over because the political left know that the facts will destroy all their Political Correct 'arguments' they're pulled up on."


Comments
comments