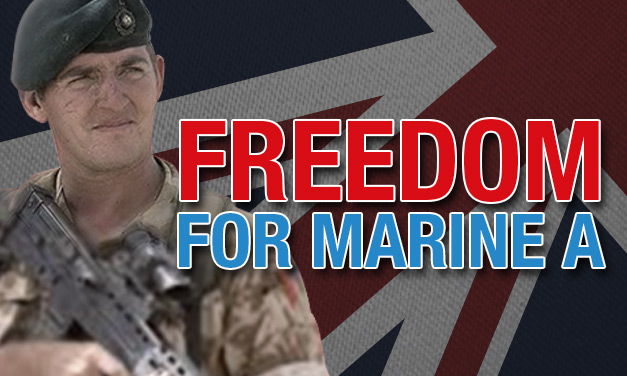 Sergeant Alexander Blackman, also known as 'Marine A', has won his appeal to overturn his conviction.
In 2013, the Royal Marine was handed a life sentence for killing a mortally wounded Taliban captive at close range with 9mm pistol in Helmand province, Afghanistan.
Footage from his helmet-mounted camera showed Blackman quoting Shakespeare before firing the round:
"There you are. Shuffle off this mortal coil, you c***. It's nothing you wouldn't do to us."
Yesterday, five judges announced the decision at the Court Martial Appeal Court in London after Sgt Blackman's legal team submitted fresh evidence that he was suffering a mental illness at the time of the killing and acted with 'diminished responsibility'.
Sgt Blackman's wife, Claire, has led the campaign to free her husband since his incarceration.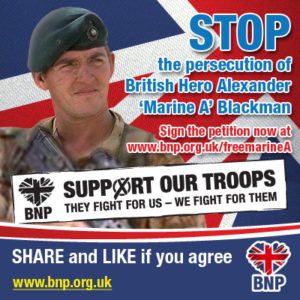 The British National Party has fervently supported the campaign, raising awareness, and drumming up support.
One Royal Marine veteran and BNP Gold Member who joined the protest to free Marine A in Parliament Square last September told the BNP News Team:
"Sgt Blackman was made a scapegoat, it's a disgrace!
"Today we've received fantastic news that he will be released, but the fight doesn't stop there.
"Sgt Blackman is counted among the ranks of our national heroes – those who risk, and in many cases give their lives, to protect the British people.
"Our Armed Forces are a credit to our nation – it's why I'm not only a proud ex-Marine but a proud member of the British National Party too."
WELL DONE to everyone who played a part in keeping hope alive for the Blackman family and joining forces to fight for our Heroes.



Comments
comments