UKIP parliamentary candidate for Stoke-on-Trent Central, Paul Nuttall, has been out in the city today to win over the good people of Stoke – by attending a mosque!
UKIP will put the interests of the Muslim community first, that's the message coming from the ex-Tory career politician.
It's a move likely to further distance the English community of Stoke.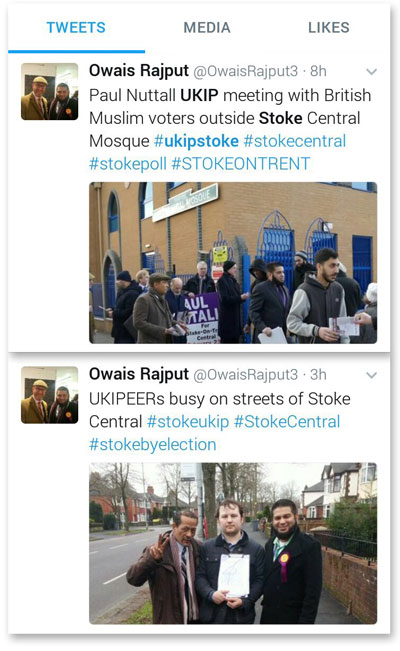 From the very start, UKIP candidate Mr Nuttall's campaign has been blighted by a series of gaffes and scandals.
Simply signing the nomination papers to stand in the election managed to stump the hapless candidate.
It appears Mr Nuttall believed that having the intention of living in Stoke was good enough to state on the form that he actually lived in Stoke – an offence which could land him in hot water with the law and possible grounds for overturning the election result should he win the most votes on the day.
Next, the bungling UKIP leader caused outrage after being caught out, live on radio, having lied about losing close friends at the Hillsborough disaster in 1989, even describing himself as a "Lepping Lane survivor" in a 2012 letter to the Liverpool Echo despite apparently having not even attended the game.
In a disgraceful and frantic attempt at damage-limitation, Mr Nuttall had a young aide take the blame, forcing her to resign from her position.
Mr Nuttall's propensity for telling tall stories was further compounded when The Guardian found on the same website another claim that he had served on the board of charity North West Training Council when he had not.
Others include claiming to have been a player at Tranmere Rovers and having a PHD – also found to be false.
It seems Mr Nuttall is somewhat of a Walter Mitty.
Days later his entire website was taken offline.
A further blow came when the charismatic, high-profile ex-UKIP leader, Nigel Farage, withdrew his support from the campaign after learning, according to the Huff Post UK, that Mr Nuttall had enlisted an event organiser who had made a series of allegations against him.
Events took a distasteful twist last weekend, when one of Mr Nuttall's activists was caught on CCTV urinating down an alley complete with UKIP rosette pinned to his lapel.
After being caught and confronted by an outraged resident who told him that she was reporting him, he attempted to barge his way through the door and force entry into the OAP home where she worked.
The absence of any serious UKIP activity on the streets of Stoke was deemed a problem enough to prompt the party to tweet a photograph of 'activists in Stoke' – which was actually an old photograph taken in Bolton.
Today, two UKIP officials from Merseyside have resigned claiming that Mr Nuttall and his team had 'demonstrated they are not fit to lead.'
Not to worry, UKIP are out in force today begging the Muslim community for their vote.
That should put everyone's concerns to rest!
The British National Party is the ONLY political party which will put the interests of indigenous British people first in our homeland – isn't it time you joined the BNP?
Join the BNP online here or join over the phone by calling 0844 80 4581 today.
If you are unable to join a political party, do your bit by donating to the British National Party online now.
Comments
comments