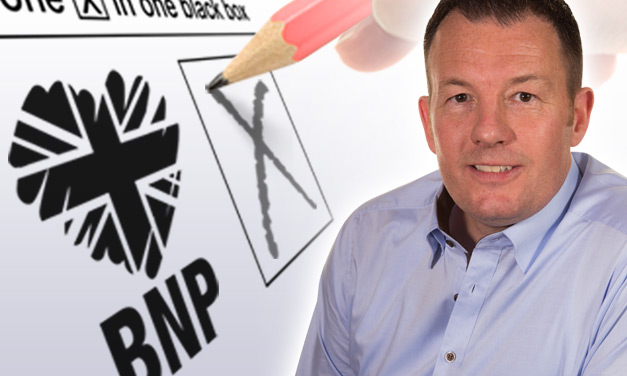 With the dust settling on last Thursday's General Election it's time to analyse the performance of the BNP.
The decision to call the snap election came as a surprise to all.
Coming off the back of local elections held just several weeks earlier – during which the BNP put in a great showing, polling over 30% in one of our target wards – the BNP Elections Team took the decision to stand ten candidates for Parliament, more than we stood last time and without over stretching.
Local elections are more favourable for the smaller political parties and the BNP is no exception.
They are fought primarily by local people as candidates who work in their communities to gain the favour and win the support of other likeminded local people – something the BNP prides itself on.
The first-past-the-post votes system on which Britain's MPs are elected, by contrast, far and away favours the big old Establishment political parties which benefit from existential local organisation, a long-established party infrastructure, mainstream media promotion including TV appearances and crucially, huge sums of money which all go into giving them a colossal advantage.
With the deposits for each candidate amounting to £500, then add on the additional cost of running an effective and competitive campaign which can easily run into tens of thousands of pounds, the financial stakes are high.
Massive debts accrued through poor election planning and unrealistic expectations are crippling to smaller parties and irresponsible spending can easily be fatal to their existence.
Benefitting from decades of experience the BNP naturally treads carefully in these matters.
That's why the party made the decision to stand a manageable number of candidates and focus on online and media promotion rather than total reliance on leaflets.
In constituencies where the BNP has stood before, some of the BNP candidate results doubled, with BNP Chairman Adam Walker tripling our average votes in Bishop Auckland constituency.
2015
---
Candidates: 8 candidates
Total vote: 1667
Average vote per candidate: 208
Additional costs included the price of a colour leaflet to every constituency
2017
---
Candidates: 10 candidates
Total vote: 4,642
Average vote per candidate: 464
Increase of 130% with only a minimal amount of local election leaflets put out.

Better than the BNP Election Team hoped – all round, a very positive sign!
Notably, in the constituencies where UKIP failed to stand, the BNP vote was up.
It's an encouraging sign.
Having gone a very long way towards accomplishing its mission, UKIP is now a spent force.
The UKIP vote collapsed resulting in the party losing an eye-watering £100,000 in deposits and an estimated £500,000 in campaign costs.
Thanks to our decision to fight smarter and more economically this time round our vote not only jumped up but the BNP emerges from these elections debt free and in a more advantageous position.
With the collapse of UKIP, the future of the BNP as looking bright indeed.
Now we need to build our grassroots further.
The BNP is only political party in Britain funded entirely by the generosity of conscientious Brits and standing ordinary, talented patriots who are courageous enough to take a stand to fight and stand for everything the we hold dear and everything the BNP exists to save.
Thank you to every BNP patriot who stood for election, everyone who helped the BNP put in a great election campaign, and to everyone who voted to save our country and make Britain great again.
The BNP is a political party of volunteers. If you want things to change in your area, you need to get involved today!


Comments
comments