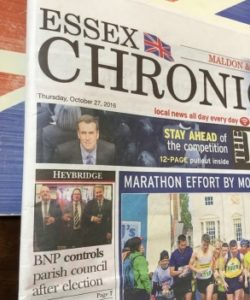 Since the recent victory on Thursday 20th October where our two candidates were elected with over 60% of the vote, there has been plenty of media interest in the struggle going on in Heybridge, Essex.
The Essex Chronicle which has the widest reach throughout Essex has proclaimed that the BNP are in control of the Parish Council after the by-election win.
The people of Heybridge Essex now have hope after six councillors have been elected by big margins and their new and enthusiastic councillors will be working hard for their communities.
This housing struggle is an ongoing saga which is being played out in every town and every district in the UK.
The Conservative party is funded by the developers and they relax the planning laws when they get elected to government which in return repays the developers for their funding.
The only way to break this vicious cycle is to keep the Conservatives out of the Parish Council seats to which they are accustomed to being elected unopposed in order to facilitate their pet project of concreting over our green spaces for profit.
Comments
comments