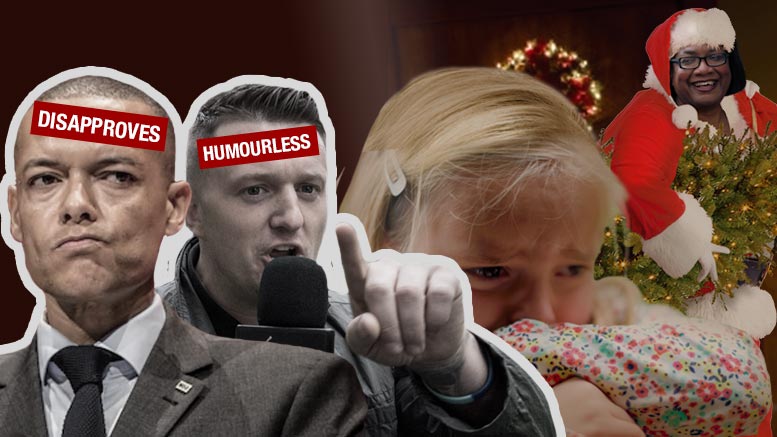 The 2017 BNP Christmas card landed on Labour Party desks earlier this week carrying a message of condemnation of Labour's overt racism against indigenous Brits.
Labour twitterazzis took to the social network platform to denounce as 'racist' a message highlighting the racist agenda of Shadow Home Secretary Diane Abbott and Jeremy Corbyn's Labour Party.
According to Labour, doing so is itself 'racist'.
It's a curious thing for logically wired brains, but since when has the totalitarian leftwing political ideology, firmly rooted in resentment, hatred, jealousy, criminality, violence, and hypocrisy ever been anything but twisted?
How dare people speak out against anti-white bigotry and racism; after all, 'racism' is an invention of the political left and, as they see it, a hate-word reserved only for their use as a tool to attack white people.
Professional victims and offence-takers took to Twitter to vent their 'outrage' at BNP temerity for using humour to call out Labour for their flagrant and shameful double standards.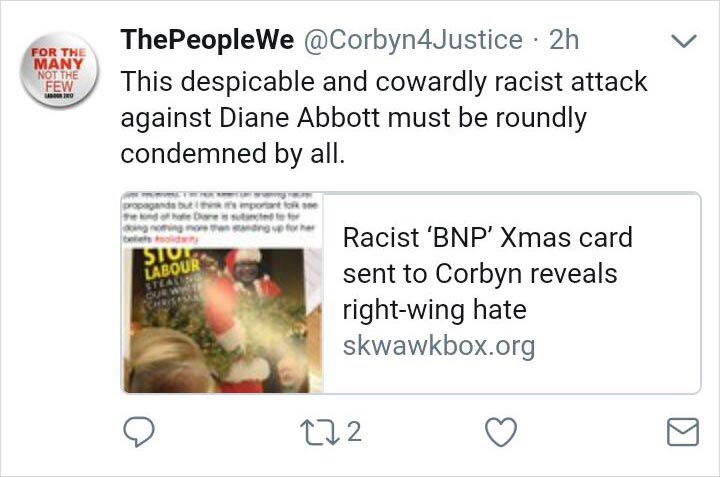 According to one online left-wing fake news article authored by 'Skwarkbox', shaming Abbott for her anti-white racism "reveals right-wing hate."
Professional outrage-taker and finger-wagging Labour scold, Clive Lewis, announced on Twitter that he had run to Diane Abbott to inform her "about this racist BNP Christmas card that Jeremy Corbyn has just received."
"I'm not keen on sharing racist propaganda," he tweeted, "but I think it's important folk see the kind of hate Diane is subjected to for doing nothing more than standing up for her beliefs."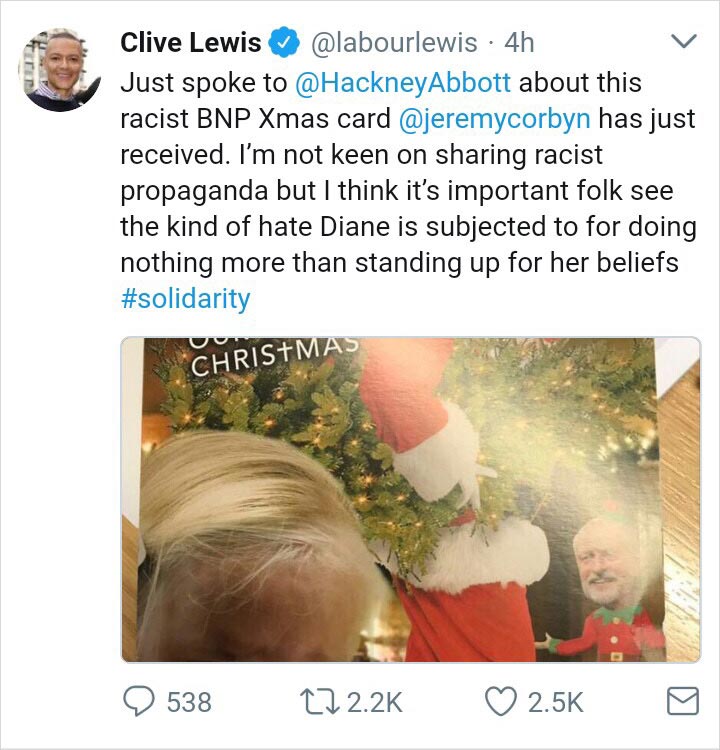 By Lewis' own admission, Abbott's 'belief' is that discriminating against indigenous Brits for the colour of their skin and race is not only acceptable, but must be implemented – proving the BNP correct again.
Own goal, Clive Lewis!
Leftist fake news outlet, The London Economic, painted racist Abbott as the innocent victim of online abuse, quoting the "appalled" snowflake, Labour MP Angela Rayner, as condemning the BNP on Abbott's racism as "awful stuff".
Leftist paranoia even reared its ridiculous head after one leftist media pundit and conspiracy theorist hilariously asked BNP Press Officer David Furness if the Christian cross typographically substituted for the letter 'T' in 'Christmas' alluded to some underground nefarious organisation.
"No," stated an incredulous Mr Furness straining to keep a straight face, "it's a Christmas cross because Christmas is a Christian celebration."
Having received the Christmas card complete with an image of Diane Abbott stealing a Christmas tree along with an accompanying message detailing the campaign, left-wing pundits proved themselves incapable of reading or navigating the internet, The Guardian correspondent Patrick Greenfield, submitted questions for Mr Furness all of which had been clearly explained and answered within the card itself.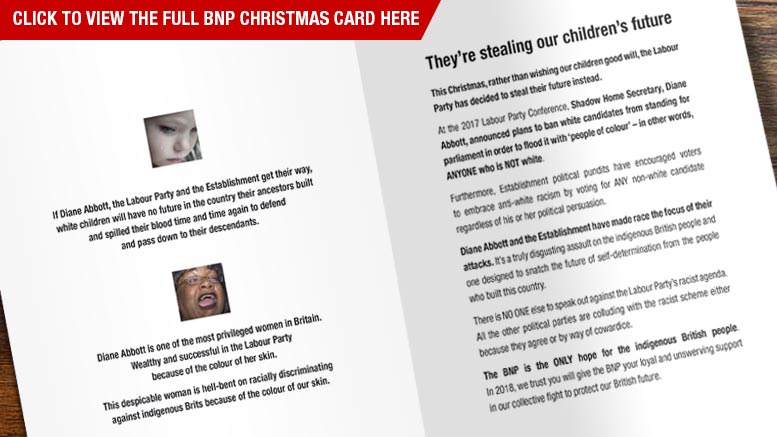 ==> VIEW THE BNP CHRISTMAS CARD 2017 <==
Sympathising with the special needs  of leftist pundits, Mr Furness spelled out the campaign for Mr Greenfield:
At the Labour Conference 2017, Diane Abbott proposed plans to deselect white parliamentary candidates in certain constituencies.

It's an example of Abbott's anti-white racism and hypocrisy. 

In discriminating against white people by deselecting them to stand for parliament, Abbott and the Labour Party at large are actively proposing denying the right of indigenous British people to self-determination in their own homeland. 

Should such a policy be proposed in any non-white nation anywhere in the world, it would rightly be met with outrage.

The BNP Christmas campaign seeks to highlight the double-standards and anti-white racism rife in Jeremy Corbyn's Labour Party.

Read the article about Diane Abbott's proposal here.

Watch Adam Walker's BNP Christmas message here.
It wasn't just the snowflakes of the political left that resorted to name-calling rather than addressing the serious accusations levelled at Abbott and co.
Outspoken anti-Islamisation angry man, Tommy Robinson, also took to Twitter to retweet Labour Party MP Clive Lewis and join leftist politicians and the Establishment media in finger-wagging and slandering BNP members and supporters, and hurling pejoratives at patriotic Brits standing up for own collective interests.
"If you want Britain to look like Peckham in 30 years, keep slagging off those trying to stop it" said one Twitter user David, adding "BNP spoke out about Rotherham before it was safe to do so and nearly went to prison over it."
"But it's ok for Diane Abbott to slag off white people? Stick to selling your book," said another.
"Quality card!" retorted James, while Janet hit the nail on the head: "I think someone's had a sense of humour failure."
Naturally, not a single outrage-taker has reported on the actual content of the BNP Christmas message.
Why?
Because they cannot do so without highlighting the fact that the BNP is morally upstanding in calling out the vile racism of Diane Abbott and Jeremy Corbyn's Labour Party because they would be forced to admit the wicked double-standards of the political left and that the BNP is correct.


Comments
comments