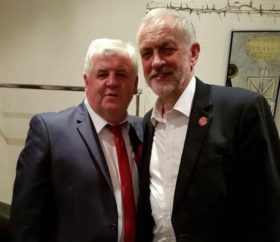 The Labour Party has ordered Labour MP Hugh Gaffney to attend equality and diversity training after he made a 'racist' comment about the Chinese. 
Gaffney, who represents Coatbridge, Chryston & Bellshill, made the remark at a student Robert Burns supper in Edinburgh.
The Scottish Labour MP is now facing calls for his suspension.
Shockingly, his comments followed an all-expenses-paid five-day trip to China in 2017 with the all-party parliamentary group (APPG) on China.
The APPG's function is to build ­relations between the UK and China.
According to Gaffney's register of interests, his cost for the trip was £1627, including £908 for flights, £540 for accommodation and £67 for food and drink.
Furthermore, the race row Labour MP was branded a hypocrite after it emerged he used his first House of Commons speech to call for "equality for all".
Consequently, the Labour party has forced Gaffney to apologise.
Jeremy Corbyn faced a volley of questions about Hugh Gaffney as he arrived in Edinburgh on a campaign tour.
Corbyn said racist remarks by any Labour MPs were "completely wrong".
Hence, Jeremy Corbyn spends an increasing amount of time dealing with accusations of Labour Party racism and antisemitism.
This latest Labour Party racism storm comes after the Labour Member of the Scottish Parliament Anas Sarwar claimed a Labour party councillor called him a "brown, Muslim paki".
Scottish Labour has said it will now develop a new anti-discrimination policy following the incident involving Hugh Gaffney.
Equality and Diversity: Labour Party racism and antisemitism
People expect MPs to adhere to high standards in their public life.
However, the Labour party is now toxic due to different groups such as Momentum fighting for control.
The Labour party routinely calls other parties 'racist'.
Some Labour Councils have compulsory equality and diversity courses for staff.
It's no surprise that accusations of racism and antisemitism have skyrocketed since the flood of hard-left supporters following Jeremy Corbyn's election as Labour party leader.
In conclusion, the Labour Party should put its own house in order before preaching to others.
Comments
comments