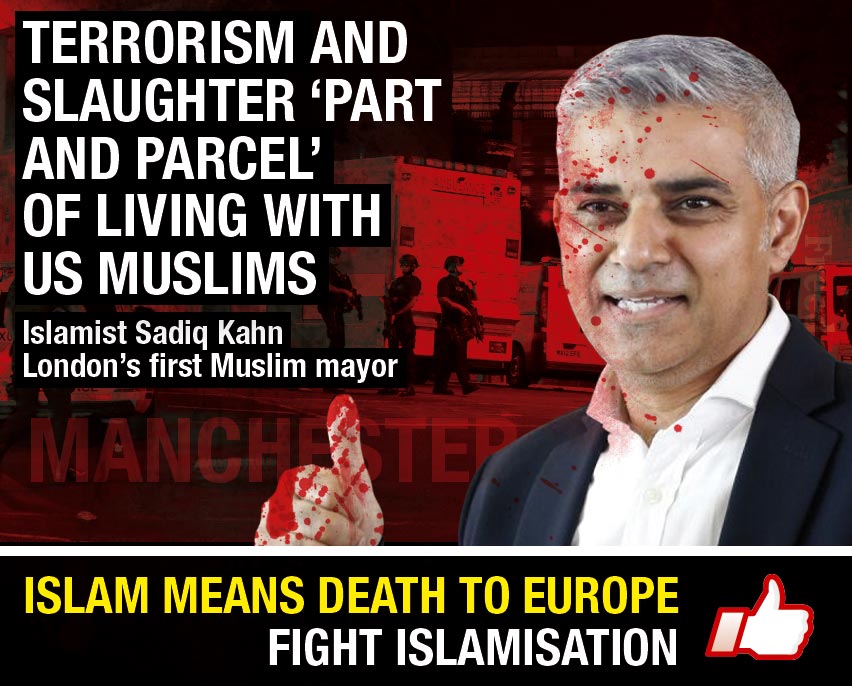 The usual vile Islamist apologist politicians have lined up on national television today to claim that the suicide terror attack which killed 22 and maimed 119 people at a concert for children in Manchester had nothing to do with Islam.
Lina Ahmed, 21, told MailOnline:

'They are a Libyan family and they have been acting strangely.

"A couple of months ago he [Salman] was chanting the first kalma [Islamic prayer] really loudly in the street.

"He was chanting in Arabic.

"'He was saying 'There is only one God and the prophet Mohammed is his messenger'."

Abedi's former school friend Leon Hall told MailOnline he saw the killer last year and said he had grown a beard.
The horrific attack took place on the forth anniversary of the horrific slaughter of Lee Rigby by Islamist savages in London.
ISIS this morning claimed responsibility for the atrocity in a ranting statement that threatened further attacks on 'worshippers of the Cross.

'With Allah's grace and support, a soldier of the Khilafah managed to place explosive devices in the midst of the gatherings of the Crusaders in the British city of Manchester,' the statement said.

It added that the massacre was 'revenge for Allah's religion… in response to their transgressions against the lands of the Muslims.
'The explosive devices were detonated in the shameless concert arena.

'What comes next will be more severe on the worshipers of the Cross and their allies.'
An unconfirmed Twitter account even warned of the terror attack hours before it took place and no action was taken by police and security forces.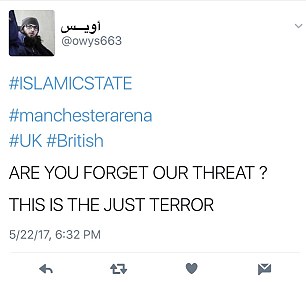 The refusal by the degenerate and increasingly dangerous political class in Britain to accept the facts is one of the reasons why more British people will now be condemned to slaughter in their own homeland by Islamists, imported into our country by way of the politicians' insane and pernicious Immigration policy.
Their foreign policy of interfering with Muslim nations has been opposed by the BNP since the political party's founding in 1982.
To wage war against foreign countries while welcoming with open arms the people from those countries can only be described as insane and suicidal – this is the condition of the degenerate political class in Britain today.

Every politician who has supported, facilitated and imposed the multicultural nightmare on the British people now has the blood of our children on their hands.
The BNP is holding the politicians to account for their betrayal of the British people. When are you going to take action?

Comments
comments